Allowing dry air to take over your home is never a good idea. Using the Aprilaire 700 Whole House Humidifier in your home will resolve the issue of low humidity effectively.
The Aprilaire 700 Whole House Humidifier is designed to maintain humidity levels in a home of about 4,200 square feet. Aprilaire model 700 will disperse up to 50% more mist into your indoor air. A humidifier with an evaporation rate up to 0.75 gallons of water per hour runs quietly.  This particular product from the Aprilaire brand delivers impressive performance to its closest competitor. Read the complete review below.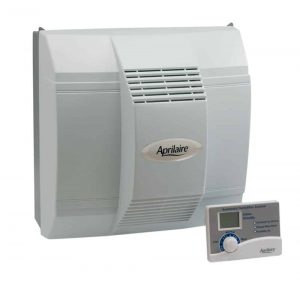 Description and features
The impressive performance Aprilaire 700 Humidifier delivers all the features you need from a great humidifier at an even better price. How well the device will perform and last depends on the duct work and overall condition of your home. The product comes in a compact size, measuring just about 16 x 11 x 18 inches and weighing approximately 15.7 pounds.
The digital control feature lets you accurately set the quantity of moisture in your home. The Backlit LED screen comes with bold numbers for easy reading and a simple dial button for even easier adjustments. The Aprilaire 700 Whole House Humidifier is nearly silent, meaning you don't have to start increasing your TV volume or yelling to your guests each time the unit turns on.
The unit only requires yearly maintenance to keep your humidifier running for years. Following the manufacturer's guide, the Aprilaire humidifier 700 yearly maintenance check-list include filter replacement, water panel, as well as washing the water distribution tray and the pad frame.
The do-it-yourself Aprilaire 700 installation may be a problem for a novice because the product does not come with an installation kit, so extra installation parts may be required. Other specific length and size drainage tubes, sealant tape or duct sealant, and water supply hookup tubing may be bought at any local hardware store during installation.
No matter how a product is well designed, there are always the good and the bad. Below are some of the pros and cons:
Pros
A digital control to keep a uniform humidity levels.
Requires only yearly maintenance.
Manual mode includes temperature and relative humidity indicators.
Impressive quiet performance.
Easy to read LED display screen.
Cons
Do it yourself  installation may be difficult if you are not an expert.
Installation kit not included.
Ducts with horizontal air flow will see decreased performance level
Warranty may not be given if not installed by a humidifier professional. Check invoice before installation.
The effective way to getting the best is by reading unbiased reviews online written by customers. Still, if you know what you are doing, this Aprilaire 700 is a great choice.