You can save on the cost of heating bills every month by using a fireplace fan. Fireplace fans work much the same way as electric heating systems; both help disperse air.
Investing in a wood burning fireplace fan will help you raise the temperature of your room to balance the temperature throughout your house.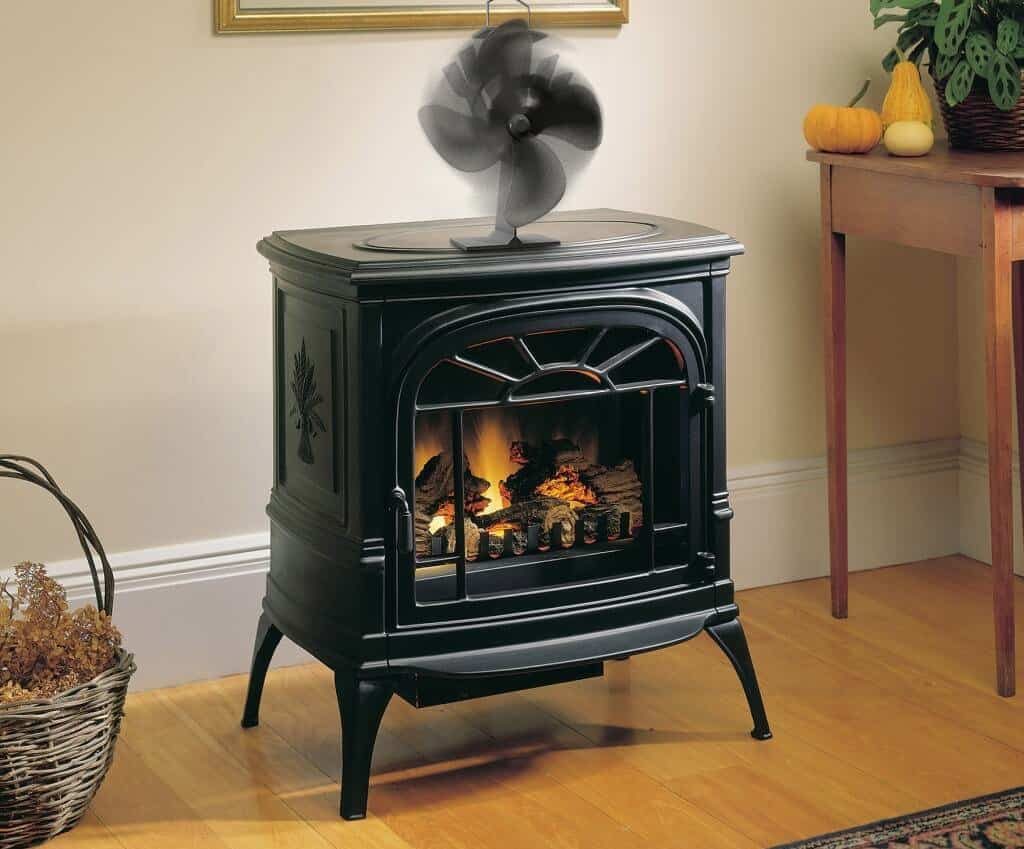 Benefits of Having a Stove
Wood stove fans are easy to use and maintain. They offer many benefits, mostly during the wintertime. Here are some of the reasons to have a fireplace fan at home:
Results in quicker heat dispersion.
Reduce hot and cold areas.
Decrease stove heating time and the cost of electricity bills.
Top 5 Fireplace Fans for Wood Burning Fireplaces
Here are our reviews of some of the best wood burning fireplace fans for your home.
1. Caframo 812AMXBX Limited AirMax Ecofan Review
If you want to replace your electric blower with a wood stove blower, consider the AirMax Ecofan. The 812AMXBX uses no electricity and pushes a considerable amount of air. Simply put it on top of your stove as it heats up and the AirMax starts working.
Features
No assembly required.
It doesn't use electricity.
Moves air up to 175 cubic feet per minute.
Pushes warm air evenly in the room.
Quiet function.
This unit is backed up by a two-year warranty.
Cons
Some users may experience a slowdown after extended use.
2. Ecofan Heat-powered Wood Stove Fan, GOLD, 175 CFM Review
If you want to move warm air without using electricity, this option from Ecofan is a great choice for you. This product will help you reach a balanced, comfortable indoor temperature. Here are some of its features:
Features
It increases room temperature in areas up to 175 cubic feet.
The power it uses comes from the heat on your stove.
It provides greater air flow, even with a reduced stove temperature.
No assembly required.
How does it work?
It is simple to use. Place it on a wood stove as it heats up. The fan will start spinning and propelling air. Higher temperatures on your stove result in faster air movement.
3. 4-Blade Heat Powered Stove Fan for Wood Review
This is another fireplace fan that can deliver an impressive amount of warm air. From its four blades, the unit is able to push air throughout the room, helping to balance the temperature.
Features
Fan blades made from anodized aluminum that help prevent corrosion.
The unit draws its power from the heat from a stove.
No corrosion or rusting of components.
Maximum operating temperature is 660 degrees Fahrenheit; a higher temperature can lead to the fan damage.
It runs quietly.
Strip metal base which raises the edge of the Eco fan as the fan approaches its maximum temperature.
Pros
It features handles for mobility. Make sure you wear gloves to avoid burns.
Cons
Can be dangerous around children.
Can damage unprotected surfaces.
For best results, position this fan on a smooth-surface stove top near the back or side of the stove.
4. Fireplace Heat Powered Fan Review
Here is another heat-powered fan to move warm air within your home. Increasing indoor temperature using the stove fan can help you balance hot and cold spots.
Features
Save money on energy bills. Uses no electricity.
It uses heat generated by a wood burning stove or fireplace.
Moves up to 990 revolutions per minute.
It works with a maximum temperature of 340 degrees Celsius.
Little or no noise during operation.
Requires only dusting or a little oil to keep operating smoothly.
Built-in fire stoke indicator alerts you when to stoke the fire so that the fan won't slow down.
Cons
It only works when there is heat coming from the stove.
5. Midwest Hearth Eco Fans for Wood Stoves Reviews
The last item on our list is the Midwest wood stove from the respected Midwest Hearth brand.  It can help push air about your home just like the other units discussed so far.
Features  
It operates without using electricity.
It can be placed directly on your stove top.
It helps heat your home quickly.
It rotates faster as the heat from the stove increases.
As your stove temperature decreases, the fan slows down and shuts off by itself.
It uses thermoelectric technology.
Compatible with:
 Freestanding pellet stoves.
 Freestanding wood stoves.
 Freestanding coal stoves.
 Freestanding gas stoves.
Conclusion
Hopefully, these reviews have given you some insight into which of these products is the best for you. They all have similar features and fall into a narrow price range, so you have to choose the one that best fits your space.
Since these items are powered by heat from a stove or fireplace, as your source heat drops, the fan speed reduces. Checking from time to time using a stove thermometer to measure your fireplace temperature will let you know when to stoke the heat up again.
As you use your wood stove fireplace fan, keep it away from children. Be sure to wear gloves to protect yourself from burns when handling it.