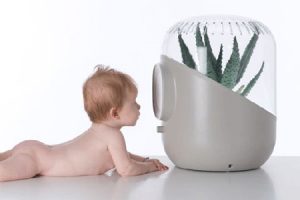 Your baby's respiratory system and skin are vulnerable to problems and the cold. During winter months, when the indoor humidity level is extremely low, the dry air can irritate your baby's soft skin, nose, and lungs. This dryness can also cause the growth of viruses. If the baby falls ill, it cannot depend on the same drugs taken by adults. For this reason, many pediatricians recommend using humidifiers around babies to keep the moisture at proper levels.
Investing in a humidifier today could be a whole lot cheaper than the cost and stress of dealing with problems if the dry air makes your baby sick. Consider getting a humidifier installed in your baby's room. This article will cover some of the best humidifiers on the market that are made especially for use around babies.
Best Humidifier For Babies Comparison Table
Image
Description
Tank
Filter
Dimensions
Rating
Price
1. MistAire Ultrasonic Cool Mist Humidifier


** Editor's Choice - Best Baby Humidifier **

0.4 gallon
Not Required
10.9 x 9.2 x 6.9 inches
8.7
2. Anypro Mist Humidifiers for Bedroom Ultra Quiet Air


** Runner-Up Best Baby Humidifier **

0.9 gallon
Filter-Free
9 x 9.9 x 8.7 inches
8.3
3. URPOWER Aroma Essential Oil Cool Mist HumidifierFilter-Free


** Best Baby Humidifier With Essential Oil Diffuser **

0.03 gallon
Filter-Free
3.1 x 3.1 x 5.5 inches
9.1
4. Holmes Ultrasonic Humidifier Filter-Free with Variable Mist ControlFilter-Free
1.3 gallon
Filter-Free
11.7 x 10.9 x 17.2 inches
8.4
5. Vicks VUL520P Mini Filter Free Cool Mist HumidifierFilter-Free
0.5 gallon
Filter-Free
9.5 x 9.6 x 10.6 inches
7.6
6. Crane USA Cool Mist Humidifiers for Kids, PenguinNot Required
1.0 gallon
Not Required
9 x 12.8 x 9 inches
7.4
7. Vicks Mini Filter Free Cool Mist HumidifierFilter-Free
0.5 gallon
Filter-Free
8.3 x 9.1 x 8.3 inches
7.7
8. Honeywell HUL520B Mistmate Cool Mist HumidifierFilter-Free
0.5 gallon
Filter-Free
8.5 x 8.5 x 9.5 inches
7.6
9. Honeywell HCM350B Germ Free Cool Mist HumidifierFilter
1.0 gallon
Filter
9.4 x 17.5 x 11.9 in
7.2
10. Crane USA Cool Mist HumidifierNot Required
1.0 gallon
Not Required
8.6 x 13.4 x 8.6 inches
6.6
11. Crane USA Cool Mist Humidifier, Blue and WhiteNot Required
1.0 gallon
Not Required
9.8 x 14.7 x 9.8 inches
7.3
12. Safety 1st Ultrasonic 360 HumidifierFilter-Free
1.0 gallon
Filter-Free
16 x 10 x 10 inches
6.6
13. Honeywell HCM350W Germ Free Cool Mist HumidifierFilter
1.0 gallon
Filter
18.6 x 10.4 x 13 inches
7.2
Best Baby Humidifier Reviews
1.
MistAire Ultrasonic Cool Mist Humidifier
** Editor's Choice – Best Baby Humidifier **
If you are looking for a smaller humidifier that you can easily mount on your baby's bedside, this MistAire Ultrasonic Cool Mist Humidifier is a great option. It is not only recommended for bedrooms, but it also works well in offices and other small rooms. Its optional night light helps to bring a feeling of soothing relaxation.
The Pure Enrichment ultrasonic cool mist humidifier makes use of powerful ultrasonic cool mist technology to ensure that the air gets moisturized for up to 16 straight hours in order for you to sleep soundly and comfortably.
The whisper operation mode is very quiet and will not cause your little one to wake up in the night. The 360-degree moisture nozzle and the dual speed settings let you adjust the mist direction to wherever it's needed. Choose the right moisture and speed settings to keep your child as comfortable as possible. This unit automatically shuts off if there is a shortage of water in the reservoir.
Features

Coverage area up to 200 square feet.
Water tank.
Works quietly.
360-degree mist nozzle.
Automatic shut off.
Optional night light.
Pros
Delivers a quiet operation and is effective for use in bedrooms.
Easy to clean with a water and vinegar solution.
Features an on and off night light switch.
Helps to relieve dry nose.
With the 1.5 gallon tank, your humidifier will run for up to 16 hours.
Control mist direction by adjusting the 360-degree nozzle.
Cons
It's not recommended for bigger-sized rooms or offices.
2. Anypro Mist Humidifiers for Bedroom Ultra Quiet Air
** Runner-Up Best Baby Humidifier **
Making use of this cool mist humidifier ensures that there won't be any growth of mold as it is made using premium materials that work perfectly well with distilled water, and thanks to its deep groove design, you don't have to worry about leakage.
This ultrasonic cool mist humidifier is the ideal go-to for those of you with a baby in the house as it is well designed to operate for as long as 20-36 hours to ensure that all parties can sleep and breathe easily.
You will also fall in love with its longer mist stream which leaves no condensation on the floor but guarantees optimal coverage for your bedrooms, medium-sized rooms, and large rooms.
Pros
Delivers a quiet operation and well designed to hold a large amount of water
Easy to operate, reliable, and clean
Generates mist to ensure you sleep and breathe better
Cons
Product tends to stop working after few uses
3. URPOWER 2nd Version Essential Oil Diffuser
** Best Baby Humidifier With Essential Oil Diffuser **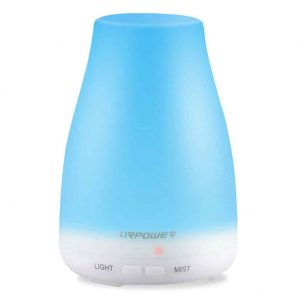 You will love having this powerful cool mist humidifier from URPOWER for your baby and its selection of 7 different colors during night time use!
This version of URPOWER's cool mist humidifier is an upgraded version optimized to generate the appropriate amount of mist necessary for bringing comfort and moisture to small bedrooms, tabletops, hotel rooms and many more.
One thing to note about this top rated cool mist humidifier is it doesn't damage natural skin oils while still addressing dry and chapped lips and skin. It also includes an automatic shut off design which shuts down this humidifier when it detects that it has run out of water to prevent damage.
Pros
Does the trick despite being portable and compact
Comes with a dual setting on your choice of diffusion
Various lights for you to select from
 4. Holmes Ultrasonic Humidifier HM495 Review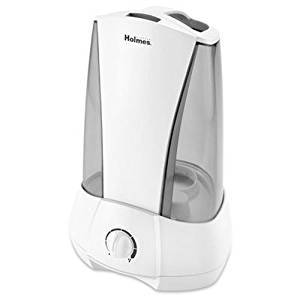 This Holmes Ultrasonic System will help you combat dry air. The HM495 will work for up to 24 hours with each fill of the 1.3-gallon tank. It also offers variable humidity control.
With the auto shut-down setting, the machine will automatically turn itself off when the water level is too low.
It is a great choice for your home or office, as long as you use it in a small-to-medium sized room. This Holmes Humidifier can help eliminate dry air that's responsible for sinus issues, dry skin, and more.
 Features
1.3-gallon tank capacity.
Filter-free operation.
Automatic shut-off.
24-hour run time.
Pros
Easy to use.
No replacement parts.
Good price.
Resists mold and bacteria buildup.
Cons
  Must be refilled at least every 24 hours.
This unit is affordable. The antimicrobial feature protects against bacteria and mold growth inside the tank. It is made with a space-saving design, making it a great choice for homes with limited space.
5. Vicks VUL520P Mini Filter Free Cool Mist Humidifier Reviews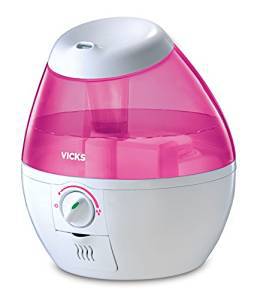 For those looking for a mini table humidifier, the VUL520P from Vicks is an attractive option.  It's small and portable. The small size makes it convenient for travel. Most importantly, it can provide the cool mist your baby needs to be comfortable and sleep soundly.
Your baby will also love its silent mode at night. Select from different mist speeds.  The 0.5-gallon reservoir produces mist for up to 12 hours.
Features
12-hour run time.
Not expensive.
Filter-free.
0.5-gallon water capacity.
Variable mist controls.
Auto shut-off.
Uses Vicks VapoPads.
Pros
Low noise.
Low cost of maintenance.
Good for baby rooms.
Cons
Only ideal for smaller rooms.
Only provides cool mist.
The Vicks Filter-Free Unit is a small item, best for smaller rooms. It occupies little space. Cost of maintenance is minimal; there are no filters to replace.
 6. Crane Adorable Ultrasonic Cool Mist Humidifier EE-865 – Penguin Review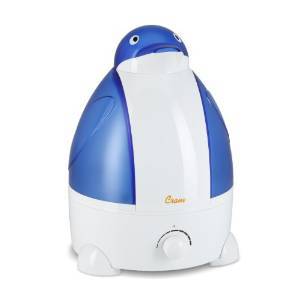 Increasing your indoor humidity with the Crane Adorable Ultrasonic might help you breathe better, sleep more soundly, and relieve congestion.
The Crane antimicrobial feature is proven to destroy up to 99.96 percent of bacteria and mold that breed inside the tanks. The one-gallon tank is detachable for easy refilling and cleaning. This unit is effective in areas up to 250 square feet.
The portable humidity machine does not consume much energy. It delivers soothing moisture through the use of ultrasonic technology. If you or your baby are suffering from nasal congestion, the flu, or cold symptoms, this device might help bring you relief. This unit does not require filters.
Features
No filters.
Cool mist.
Automatic shut-off.
Quiet operation.
Pediatrician recommended.
Pros
Cons
Smaller reservoir means you have to refill often.
Some users complain about the noise.
This unit is not too expensive. It has robust features and can operate for up to 24 hours at a time. The filter-free design saves you the hassle of cleaning or replacing them.
You should use caution not to use hard water on this device, as it can leave behind mineral deposits.
7. Vicks Vul520w Filter-free Cool Mist Humidifier
This cool mist humidifier can be cleaned easily thanks to its wide tank opening, not to mention it has the impressive feature of its translucent 5-gallon tank which ensures that you can monitor water levels quickly and easily.
Get the Vicks Vul520w cool mist humidifier and avoid having to replace or buy filters. It also delivers an ultra-quiet and noiseless operation. Some of its notable features also include a soft glow night light, variable humidity control, and sustainable design to continue performing up to 20 hours even when low.
Pros
Keeps the nose uncongested
Automatic shut off technology shuts down humidifier as a safety precaution
Cons
Monitor stops functioning after few months of use
8. Honeywell HUL520B Mistmate Cool Mist Humidifier
Specially designed for use in personal space and small rooms, the Honeywell HUL520B Mistmate cool mist humidifier will run for as long as 18 hours per filling on low setting. It also comes with a variable moisture output setting which helps to control the amount of moisture that is given off.
Making use of this humidifier from Honeywell doesn't require any use of filters, and it also boasts of an extremely quiet operation which ensures your sleep doesn't get disturbed.
Pros
Good quality product that works as advertised
Provides adequate humidity and delivers a quiet operation
Cons
Doesn't sit right and motor can be somewhat annoying during operation
Fan gets louder and louder after each use
9. Honeywell HCM350B Germ Free Cool Mist Humidifier
One impressive design of this Honeywell germ-free cool mist humidifier is its ability to run for as long as twenty-four hours on low setting, and, in addition to this, it also ensures a noiseless and quiet operation that won't disturb your sleep.
One of the benefits that come with this Honeywell germ-free cool mist humidifier is that it delivers soothing moisture which helps to get rid of the discomforts associated with dry air. All of this is made possible through a three-level adjuster for sound level and moisture output.
The Honeywell is also able to filter white dust from the water via its wicking filter all while its anti-microbial material prevents the buildup of mold and bacteria.
Pros
Clears up stuffy nose and runs noiselessly
The tank sits perfectly in the sink and doesn't fall over
Cons
Too bulky and big
UV light isn't functional and this means germs don't get killed
10. Crane USA Humidifiers
This humidifier delivers a quiet operation for as long as 24 hours and takes safety into consideration by offering an automatic shut off sensor which shuts down this humidifier when it senses that the water level is low.
You will not regret making use of the Crane USA humidifier for your baby's nursery as it boasts an anti-microbial material which helps prevent the growth of bacteria and mold. You will be amazed at its powerful design as it will humidify up to five hundred square feet for your baby to breathe and sleep easily.
Pros
Water never empties
Delivers a quiet operation
Cons
Prone to mold without proper maintenance
Quite difficult to clean up
11. Crane Drop Ultrasonic Cool Mist Humidifier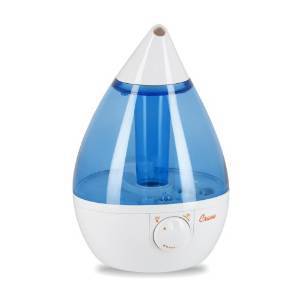 The Crane Humidifier is eco-friendly and offers great performance. Its small, but rugged size delivers a surprising quantity of mist. Its small size means you'll have room to mount it in your baby's nursery, bedrooms, your office or in your hotel room when you travel.
This Crane humidity dispenser is a cool mist humidifier featuring a one-gallon water tank that releases about 2.3 gallons of mist in 24 hours. With variable control settings and a 360-degree nozzle, you can direct the mist to the right location while your baby enjoys the better air and comfortable sleep at night. Because babies dislike loud noises, this humidifier is made to be especially quiet.
Features
Zero percent fabric.
Automatic turn-off when the tank is empty.
1-gallon water tank.
It runs up to 24 hours per filling.
Mist nozzle.
Variable mist control settings.
Pros
It is not expensive, is easy to clean using a chlorine or vinegar solution, and runs quietly. Determine the direction of mist distribution by adjusting the nozzle.
Cons
Coverage area not specified and may perform poorly in larger rooms. The light does not turn off while in use.
12. Safety 1st Ultrasonic 360 Humidifier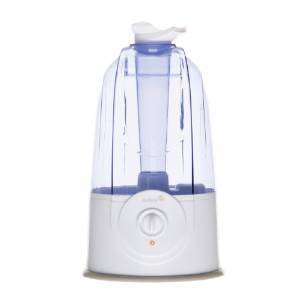 This unit is cost-efficient and features easy-to-use functions. With this unit's quiet operation, your baby can sleep through the night. It features dual mist outlets with 360 degrees of rotation that let you direct the mist to any direction you want. With the two nozzles, this humidifier is a great choice for rooms with two children. Lifting the tank is easy. With its built-in handle, you can take off the humidifier base and carry it to the faucet for refilling. This humidifier will automatically shut off when the water in the tank is completely used up to avoid overheating. To keep your humidifier maintenance simple, there is a light on the front of the humidifier that changes from green to red when your unit needs cleaning.
Features

Quiet operation.
Gently soothes baby with moisture-rich air.
Two 360 degree mist outlets.
Easy fill tank.
Auto shut off.
Quiet operation.
Pros
Using the high setting, you can move it between different rooms to humidify the air in more than one place. Save yourself the stress of regular cleaning and maintenance.
Cons
Some customers complain about water leaking from the plastic tank and difficulty refilling it.
13. Honeywell Germ Free Cool Mist Humidifier, HCM-350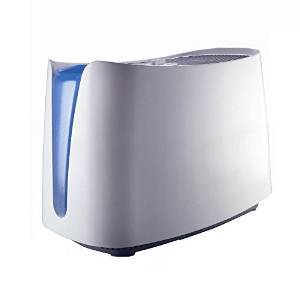 The Honeywell HCM-350 humidifier is a great option with strong customer ratings and reviews, making it one of the best cool mist humidifiers for babies. Although this product is a great option to humidify any room, it is specially designed for use around babies. It's cost-efficient and offers great features, including ultraviolet technology that helps to kill up to 99.9 percent of bacteria in the water reservoir. It runs quietly and comes with a 1.5-gallon tank, which when filled will run up to 24 hours. The device is also easy to carry. Save on the cost of acquiring new filters by taking advantage of the Protec Antimicrobial Treated Filter to lengthen filter life.
Features

Ultraviolet technology that kills bacteria, viruses, mold, and fungus.
Filled water tank lasts for 24 hours.
Protec Antimicrobial Treated Filter.
Uses Honeywell Replacement filter HAC-504AW.
3-year limited warranty.
Pros
It runs quietly.
Humidifier filter does not require frequent replacing.
The tank fits easily in the sink.
Surprisingly easy to set up and use.
Cons
The size is a bit big and bulky.
Factors To consider in Your Humidifier Search
Getting the best cool mist humidifier helps to improve the air quality in any home but there are still other benefits that come with making use of a good cool mist humidifier.
Cool mist humidifiers help fight against the negative side effects of dry air like dry skin, sinus congestion, cold, cough and other respiratory illnesses. Along with these positive benefits humidifiers offer, there are some other factors to consider before purchasing a good cool mist humidifier, including:
Safety – automatic shut off design
Humidistat
Ultrasonic technology
Water Tank Size
Filters: You will also need to consider whether or not you want a humidifier with a filter. Humidifiers with filters require extra maintenance cost and time as they have to be cleaned or replaced.
Anti-Microbial technology
Check the coverage area: There are whole-house humidifiers and portable humidifiers.  Some of the portable humidifiers can be used in small or medium rooms. Others are designed for larger rooms.
Tips on the Using A Humidifier
Buying a humidifier is a step towards healthier living. Remember, dry air is irritating and uncomfortable, especially for your little ones who cannot convey their discomfort. Dryness in the air can cause nose bleeds, nose congestion, sinus problems, dry skin, and dry hair. Dry air is also associated with static electricity, which can affect electronics and shock your little ones. A humidifier is the best way to help avoid these problems altogether.
Humidifiers can be used to help relieve a cough, cold, and sinus symptoms. They improve the air quality in the home and can facilitate better breathing and help you sleep better at night. Read more about the benefits here. It's very important to clean your humidifier system on a regular basis. Always follow the manufacturer's directions. In general, the more often you use your humidifier, the more often it will need to be cleaned.
Minerals and other particles can accumulate if you use hard water. It is better to use distilled water or sterilized water to avoid a build-up of bacteria, fungus, and molds that can cause numerous health issues.
When cleaning your humidifier be sure to use a vinegar or chlorine solution that has the power to kill bacteria. Check out this article to learn how to clean your humidifier properly.
Final words
Remember, dry air can adversely affect your skin and the skin of your young ones. Instead of waiting for the dry air to correct itself, you can proactively address the situation with a humidifier. Humidifiers are also great options for people who want to avoid respiratory issues, potentially save on energy costs, as well as prevent breeding grounds for mold and bacteria.
We've brought you these reviews to help you choose the best baby humidifier. Each of the products has its pros and cons. You should weigh these issues to make the right decision on which is best for you and your baby.