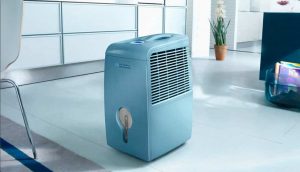 Do you want to invest in a dehumidifier? We have selected some top brands in the market that may be just what you need.
For the sake of comfort and comfortable living, many people buy different machines just to improve the quality of their home air. A dehumidifier is among them.
When you purchase this device, it will help you remove excess moisture from your home that may cause you discomfort.
It can also help get rid of musty odors usually caused by mold or other air pollutants in humid environments.
What to look for when shopping for a dehumidifier?
When searching for the right dehumidifier, there are some important things to consider. All dehumidifiers are good, but some are better. Here are the features you should have in mind:
Check for dehumidification square footage (know your home length and width area).
Digital or manual settings.
Water removal method: tank collector, hose, or both.
Full bucket alert warning light.
24-hour clock timer.
Automatic shut off.
Noise level of the dehumidifier.
Automatic defrost and low-temperature setting.
Price.
Top 7 Best Dehumidifier Reviews
1. Frigidaire FAD704DWD Dehumidifier for Basement, 70-pint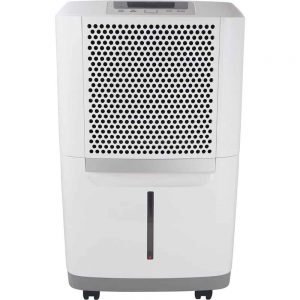 If you need a dehumidifier to install in your basement, the Frigidaire FAD704DWD Dehumidifier is a great choice.
This item is capable of drawing out up to 70 pints of moisture in 24 hours. This product can be installed in larger spaces with high humidity levels, like your kitchen or bathroom.
This unit might consume more energy as it works hard. This means your electric bill might go up a bit.
This dehumidifier operates very quietly and is hardly noticeable. You can connect a pipe to the dehumidifier to dispose of the moisture without having to empty the tank.
Here are some other features of the Frigidaire FAD704DWD:
Automatic shut-off.
Digital display.
Full-bucket alert.
Removable filter.
Drain pump.
The automatic shut-off feature can help give you peace of mind that the tank will not overflow.
Cleaning it is not a hassle. The removable filter is easy to remove so that you can clean the item properly. Proper maintenance will keep the device working efficiently for years. It also comes with a four-year warranty.
2. Friedrich D70BP 70 Pint Dehumidifier with Pump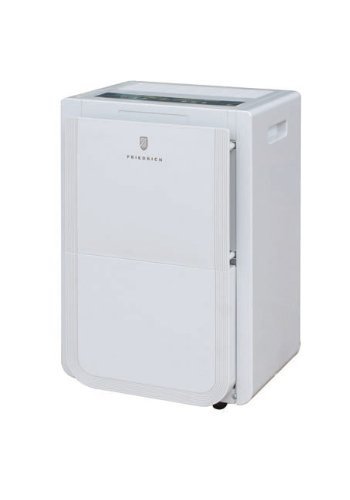 Like the Frigidaire above, this product offers the same level of moisture extraction. It collects 70 pints daily and has a 16.2-pint collection reservoir. It can be used in large rooms with high moisture content.
This dehumidifier operates quietly. Other features include:
Automatic restart
Automatic shut off.
24-hour timer.
Automatic defrost.
Full-bucket alert.
Unfortunately, this item can consume a lot of energy. However, the product will bring you comfort and safeguard family health. This dehumidifier is not heavy and requires less space compared to the Frigidaire FAD704DWD. If space is at a premium, consider getting this one.
3. Frigidaire FFAD5033R1 Energy Star 50 pint Dehumidifier with Effortless Humidity Control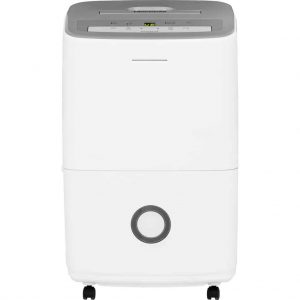 Another great choice is the Frigidaire FFAD5033R1. The moisture output of this unit is 50 pints per day. Unlike some of the other models that consume a great deal of energy, this model is much more energy efficient. The FFAD5033R1 is an award-winning dehumidifier for its durability and noise level output.
Removing the tray to empty the water is easy. In addition, when the water tray level exceeds its limit, the unit automatically shuts off.
This unit is smaller and takes up less space than some other options, making it a great choice for smaller areas and apartments.
This item does not have an auto-defrost function like the ones above.
4. Keystone Dehumidifier, KSTAD50B, 50-pint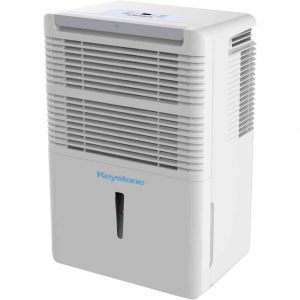 This dehumidifier is from a well-known brand, Keystone. The brand is well-known for its innovative designs and features. With this unit, you can remove moisture from homes up to 3,000 square feet.
Other features include the LED light display, full water bucket warning, timer clock, and the auto shut-off function.
This Keystone Dehumidifier is also equipped with a filter cleaning alert. This makes it easy to know when to clean the filter. This feature is exclusive to this model on the list.
The auto turn-on functioning is great in case there is a power interruption. The rolling casters let you transport it from one room to another with ease.
Let's look at the advantages and disadvantages of this unit.
Advantages:
It can be used in homes up to 3,000 square feet.
It can withdraw up to 50 pints of moisture from the atmosphere.
The item comes with full water bucket alert.
Has a LED display.
Automatically turns on/off.
Rolling casters.
Easy-to-clean filter.
Disadvantages:
The bucket design may not be convenient for you.
5. EdgeStar Energy Star 30 Pint Dehumidifier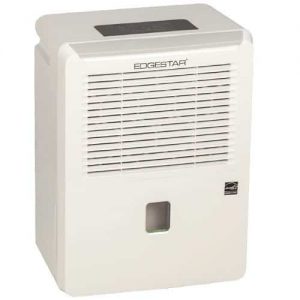 The EdgeStar Energy dehumidifier also draws up to 50 pints of moisture per day from the atmosphere. This unit is recommended for large homes, up to about 3,000 square feet.
Features:
Automatic restart.
Automatic shut off.
Automatic defrost.
Full-bucket alert.
24-hour timer.
This item is energy efficient and is designed to fit in smaller spaces.
This machine comes with a 90-day labor warranty and a one-year warranty for parts. It can make a lot of noise.
6. EcoSeb Desiccant Dehumidifier, DD122EA-SIMPLE, 15-Pint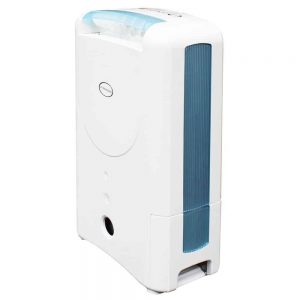 If you are on a tight budget, the EcoSeb Desiccant Dehumidifier is a great option. With this DD122EA-SIMPLE, you can dehumidify areas of over 8 square feet with a dehumidification rate of 15 pints per day. This one is among our top five best portable dehumidifiers list and notable for its withdrawal rate of moisture, even in low temperature.
Due to its portable design, it's quite small and light in weight. Some other great features of the EcoSeb Desiccant include:
Auto sensor
Auto power saver
Over-dry protection.
All of these features make the machine easy to operate. It functions quietly. The desiccant technology installed in this unit prevents it from emitting dangerous gas. Use the one-meter hose to dispose of the water without having to empty a tray.
Although the EcoSeb DD122EA-SIMPLE is cheap, it is still backed up by a two-year warranty.
7. Dri-Eaz Crawl Space Dehumidifier, Revolution LGR, F413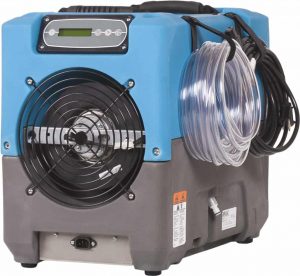 If you need to remove moisture from large areas of up to 7,000 square feet, the LGR dehumidifier is fit for the job.
It includes great features, such as in-built humidistat for regulating moisture level, can be easily transported and is simple to clean and maintain.
Understanding the advantages and disadvantages of any item is crucial to making an informed decision. Here is our analysis:
Advantages
Can dehumidify up to 80 pints per day.
Built-in humidistat.
Small design.
Easy to clean and maintain.
Easy to move.
Disadvantages
Not to be used in basements.
Easily freezes up.
How Does a Dehumidifier Work?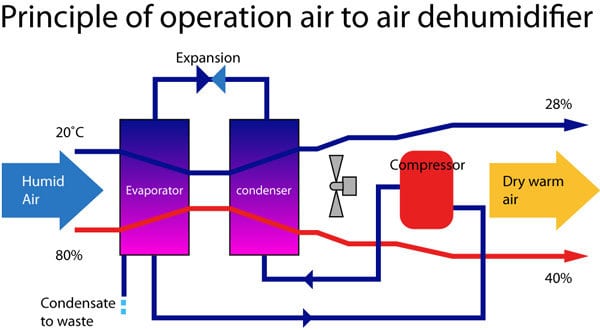 This modern technology does nothing but help to make you comfortable by removing excess moisture.
Dehumidifiers have a fan inside them. As it works, air passes through the cooling coils which helps lower the temperature. At this time, the air no longer has excess moisture. It is warmed and pushed back into your room.
The dehumidifier removes the moisture and dumps it inside the water tank. Some dehumidifiers have water tanks, and some have water hoses.
Those units with water hoses permit you to drain the water directly to a sink or outside. Those with tanks require manual emptying.
If your unit has an auto shut-off function, it will automatically shut down when the water level gets to its peak.
Benefits of Using a Dehumidifier
If your home air is too moist, your electronics may be damaged.
Moreover, excess humidity favors the growth of bacteria like mold spores, mildew formations, dust mites, viruses, bacteria, and more. Too much indoor humidity is tough on allergy and asthma sufferers, including people with COPD and similar lung issues. The odor in your closet and your basement may be a result of excess humidity. Health problems associated with high humidity include:
Breathing problems, such as wheezing.
Stuffy nose and sinuses; sneezing.
Watery and itching eyes.
Some skin problems.
Various Functions of the Features in a Dehumidifier
Timers: This lets you set the length of time you want the machine to work. Some dehumidifiers have a restart function in case there is a power outage. This simply means the unit will start running again automatically.
Automatic Shut-off: This is an outstanding feature in any dehumidifier. It helps to turn it off when water reaches the capacity of the tank. If you are busy or asleep, it can help prevent a range of serious safety concerns.
Control Settings: These controls let you choose your preferred humidity level. Normal indoor humidity level is within the range of 35 to 50 percent. You will find some dehumidifiers have digital controls. Others have knobs. Make sure you choose the one that will meet your needs.
Filters: Filters help to remove dust and other particles from the air. However, they need to be replaced occasionally. Every manufacturer has different specifications as to how and when to clean or change filters. Each dehumidifier brand uses different filters sizes and types.
Humidistats Vs. Hygrometers
Humidistats: Most advanced dehumidifiers have a built-in humidistat. These features let you program moisture level. Humidistat is similar to a thermostat which people used to set their furnace temperature. However, if your machine is not equipped with a humidistat, you can purchase one separately on Amazon at a reasonable cost.
Hygrometers: Hygrometer tells the amount of moisture present in an area. This device can be built into a humidifier or dehumidifier and can be used alongside the humidistat. Whether a manual or digital readout, you can get either of them on Amazon to hang on your wall. They usually function with battery.
Dehumidifiers vs. Humidifiers, Air Purifiers, and Air Conditioners
Dehumidifier
A dehumidifier is a machine used for the removal of too much moisture present in the air. This device is useful particularly in the summer or in the humid climates to normalize the air.
Dehumidifiers have the capability to prevent the development of bacteria and mold. Some allergy and asthma sufferers who are sensitive to excess moisture may benefit from this type of product. It can help prevent wood from drying out and keep your clothes from smelling. They also can help prevent bacteria from growing in your home and causing damage.
The device works by drawing the air and passing it through an evaporation process. This enables the excess humidity to be turned into water. Finally, the water drops into the drain hose or bucket, and the dry air is forced back into the room.
Air Purifiers
This device is used to purify the air by getting rid of dirt and other small pollutants, including some that may cause disease. This process is completed by a HEPA dust filter.
This machine can be good for those prone to allergies or with a history of asthma. As soon as air enters the purifier system, it's purified and brought back to the home. It can eliminate odors, such as musty smells or smoke odors.
Some air purifiers have ionizers. In these machines, negatively charged ions are released into the air which helps to neutralize positive ions and to help pull dust into the unit. Some of the harmful particles it can help reduce include mold, dust, smoke, and other kinds of micro-organisms in the air. The ions can help trap particles in the air that may be dangerous to your health. The positively-charged plate in the purifier attracts and holds the harmful elements.
Computers, televisions, fax machines and other electronics release harmful positive ions into the body. Placing an air purifier in locations with these devices is wise. Negative ions help to double the oxygen level in the air, reducing awful odors, germs, and dust.
Air Conditioners
Air conditioners and dehumidifiers are not the same things. You cannot use an air conditioning unit to replace a dehumidifier. A dehumidifier cannot be used in place of an air conditioner.
How do air conditioner and air dehumidifier work?
A dehumidifier is an appliance used in the home to remove moisture in the air, while air conditioners blow out cold air. In addition, dehumidifiers draw moisture from the air into the machine before releasing the air back into the home.
On the other hand, air conditioners also promote the drying of air just like a dehumidifier system but work differently. Air flowing through the cooling coil becomes cooler. The compressor then pumps it through a pipe into the condenser. The unwanted heat exits via the coil and the capacitor into the outside air. The condensed water in the air conditioner evaporator flows out through a narrow tube into the outside world.
Dehumidifying Efficiency
Since air conditioners work as desiccant dehumidifiers, they are used sometimes as temporary dehumidifiers. As a matter of fact, the moisture is extracted by desiccation into the exhaust flow. This increases the temperature of the air. An air conditioner is designed with a moisture wick and the energy saving result is not like that of a dehumidifier, which are machines designed specifically for this purpose.
Most air conditioning units are equipped with thermal control systems instead of a humidistat that is used to control dehumidifiers. Still, the humidity and temperature in a closed space are closely associated with one another. An air conditioner can also mask the humidity in your home.