If you are in need of a machine to keep your outdoor air humidity comfortable during this summer, look no further than the Lasko 7050. Although we often think of these kinds of products as meant for indoors, there's no reason why your outdoor air can't be comfortable, too. The Lasko 7050 will help keep the environment cool and comfortable during outdoor events. This outdoor misting fan is perfect for use at barbecues, picnics and will even make you a favorite guest at your favorite sporting center. It is designed with a power bulldoze misting spray fan that will cool the air in your surrounding areas by up to 20 degrees.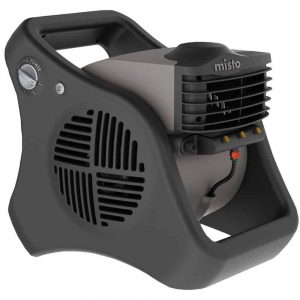 Product Details
Users who are looking for an outdoor fan that offers versatility should look no further than this device. The low-profile build makes it sit comfortably and balanced on the floor, protecting it from getting knocked over. It features a 6-foot hose which can be connected to any outdoor water spigot. Then, just turn the unit on and enjoy the cool mist.
In order to provide maximum comfort, the Lasko 7050 is capable of swiveling, which helps the mist circulate to a larger area. The product is sturdy and is intended to last for years. It also resists ultraviolet rays and is resistant to rust.
Pros
Durability
The heavy-duty plastic is resistant to UV rays to keep it functioning and looking great for years to come. The motor is made with ball bearings and is designed to last equally as long.
Safe
The unit is equipped with three-prong plugs and is approved for outdoor use.
No Hassle Cool Mist
The Lasko Misto 7050 comes with a hose that makes for easy attaching to your water source. It also comes apart quickly, making for easy cleaning.
Versatile Cool Air/Mist
The Lasko 7050 swivels to help increase its area of impact and comes with adjustable speeds. It is strong and efficient and can reduce the surrounding temperature by up to 20 degrees.
Cons
Level of Mist
The mist that this unit produces is pretty heavy. You'll want to place it a distance away from you.
High Calcium Carbonate Water
Water sources that are high in calcium carbonate may cause buildup on this device.
Conclusion
Lasko has brought outdoor comfort to the summer months. The Misto 7050 is a heavy-duty misting fan which can be used for any outdoor activities. Those who are turned away by high levels of heat may find they are comfortable with one of these around. It's very easy to operate, safe to use, and functions as it has been designed to.