Dry air can be hazardous to your health and the things in your home. Here, we review two AIRCARE humidifiers to help resolve dry air issues. Humidifying your home or office offers many benefits. Experts say that the relative humidity in your house should be around 35 to 60 percent. Any number below or above this range can pose health problems. In this post, we'll take a look at two AIRCARE humidifiers to help keep the humidity in your home at a healthy level.
1. AIRCARE 6 gal. Evaporative Humidifier for 2700 sq. ft. Review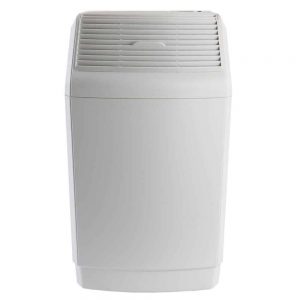 This AIRCARE humidifier is made with a durable plastic body. It can be placed nearly anywhere in your house. This unit comes with a large tank and holds up to six gallons and runs for more than 24 hours. It functions in areas up to 2,700 square feet. With three speed settings, you can choose the rate at which you want the moisture supplied into the air. The manual humidistat settings let you adjust the humidity level. It features an automatic shut-off feature to turn the device off when the water level is too low. Filter check and water refill indicators help make using this product a breeze.
The Pros
Floor placement humidifier eliminates installation cost.
Low-cost maintenance.
Automatic shut-off feature helps bring peace of mind.
Different humidity settings.
Refill and filter change indicators.
The Cons
It is expensive.
Not an automatic humidity machine.
Water filter must be replaced.
This product is a great choice for use in larger areas up to 2,700 square feet.
2. AIRCARE 826000 Space-Saver Evaporative Humidifier Review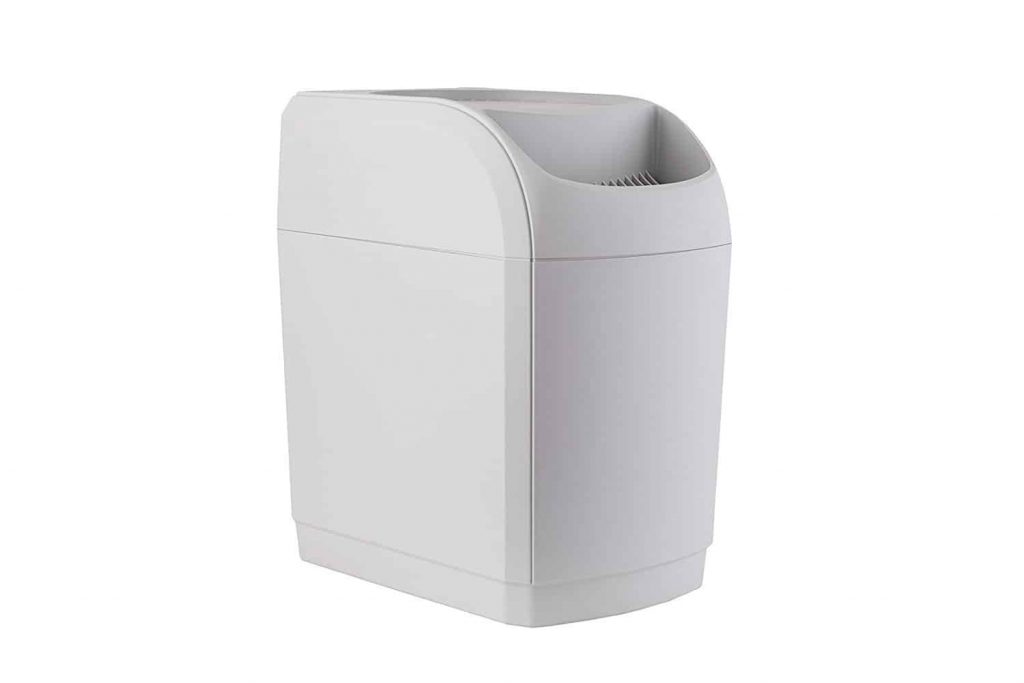 This humidifier is a great option with impressive features. It is easy to use, refill, and clean. The white plastic construction is durable and sturdy. It is simple to install and maintain and does not require expert installation.
With the machine's top-filling method, you can easily pour water into the reservoir. Its analog controls make operation a breeze. The adjustable humidity settings help you reach the perfect level of moisture in the air. The AIRCARE 826000 uses a Trapmax filter that is powerful, helps trap allergens, and has antimicrobial properties for safer air.
Features                                                    
Analog control system.
Coverage area up to 2,300 square feet.
It runs up to 70 hours.
Six-gallon tank capacity.
Two fan speeds.
Customizable humidity settings.
Automatic shut off.
Refill indicator.
Caster wheels for easy transportation.
ETL approved.
Built in the USA.
The Pros
Adjustable humidistat.
The filter has antimicrobial properties.
Water refill indicator.
Top-opening tank for easy refills.
 The Cons
Does not have automatic controls.
The added cost of replacing filters.
Benefits of Humidification Using an Evaporative system
Increasing the indoor humidity levels can help decrease diseases and allergens in the air. Keeping adequate humidity can help ease allergy symptoms. It can help soothe dry skin and relieve irritation in your nose, nasal openings, mouth, throat, sinuses, and eyes. Many people think their allergies are caused by pet hair. In reality, a lot of allergies are caused by pet dander. A home that is well humidified can reduce or eliminate static electricity. This benefit can lessen the risk of damaging sensitive equipment like computers, laptops, TV's, tablets, and stereos. Evaporative humidifiers not only provide comfortable, healthy air, they can also help save on your electric bill.