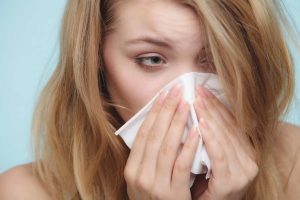 Humidifiers offer many benefits that can help you with a variety of issues. There are different kinds of humidifiers. In this article, we are going to look at some of the best warm and cool mist humidifiers for allergy and asthma patients.
We'll carefully examine each of them. If you are suffering from allergies or asthma, the right humidifier may be able to relieve some of your symptoms.
Top 4 Best Humidifier for Allergies:
1. Best cool mist humidifier for allergies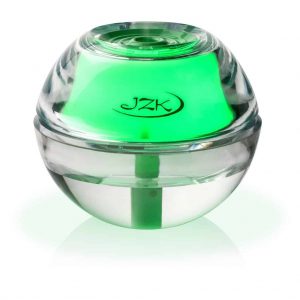 This humidifier offers unique features and design. It not only functions as a humidifier, but you can also use it to charge your mobile device. This small and portable unit delivers treated mist, which may help relieve some common health problems:
Allergies.
Sinus infections.
Dry sinuses.
Nosebleeds.
This machine can provide you with a nice, cool mist to help revitalize your skin and make you feel more comfortable.
Pros:
Good for small rooms or offices.
USB port for charging.
Cons:
Not good for larger room sizes.
This is a nice cool mist humidifier. It may be able to help relieve some of your allergy symptoms. Its unique design is aesthetically pleasing and will look great in any room.
2. Anypro 3.5L Cool Mist Humidifier Anti-mold Steam Vaporizer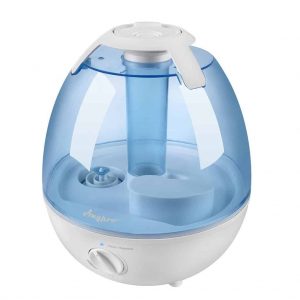 This product from Anypro is another humidifier recommended for allergy sufferers. It is also a steam vaporizer. Its compact design makes it perfect for small or medium room sizes. It can work for up to 36 hours on a full tank. You can simply fill the water reservoir and keep it running all through the night. A variable humidity control is available so that you can adjust moisture accordingly to your needs.
The antibacterial properties help get rid of some of the allergens in the air. For example, moss, mold, and fungi are among the biggest threats to an allergy sufferer. This device can help trap those particles.
Features:
Quiet operation.
3.5-liter water reservoir.
Antibacterial properties.
Filter-less humidifier.
Nightlight.
360-degree adjustable mist spray.
As you can see, this product from Anypro is a great choice that may be able to help relieve some of your allergy symptoms.
3. Honeywell Germ Free Cool Mist Humidifier for Allergies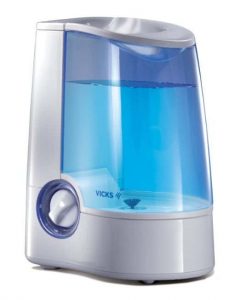 The Honeywell HCM350W features UV technology that can kill up to 99 percent of mold, fungi, bacteria, and viruses. These organisms can also aggravate allergy symptoms. Anyone with asthma and allergies who can benefit from a humidifier should consider choosing the Honeywell Germ Free Cool Humidifier.
This humidifier will help eliminate dry air that dries out your skin, especially during winter months.
With three speed settings, you can adjust the rate at which you want the mist to be released into the air. The two-gallon reservoir will last you up to 48 hours. The antimicrobial treated filter does a great job trapping particles and keeping them from being released back into the air.
In addition, a wick filter helps to reduce white dust while providing clean moisture.
Features
UV kills up to 99 percent of germs.
Three-speed humidity control.
Dishwasher safe.
Pros:
Easy to set up and operate.
Quiet operation.
Filters last up to six months.
Cons:
A little bulky and heavy.
Should not be used with hard water.
If you are looking for a humidifier that prevents white dust from being circulated into the air, the Honeywell Cool Mist is a good choice. Moreover, its antimicrobial properties help kill germs and other organisms.
4. Vicks Warm Mist Germ Free Humidifier for Allergies and Asthma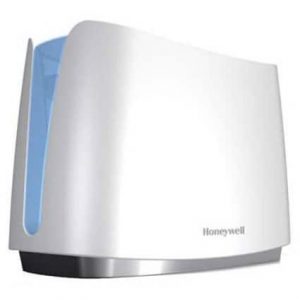 This Vicks Warm Mist humidifier can help in the fight against airborne infections and the flu. Warm mist humidifiers release steam that has been heated and cooled. During this process, most of the bacteria in the water are trapped and killed. Since this Vicks model is a warm mist, it will trap about 95 percent of allergens and bacteria, leaving you with healthy mist.
The tank is translucent, so you can easily view the water level from outside the container. With a full reservoir, the Vicks humidifier can run for up to 12 hours.
Features:
Two comfort settings.
Kills up to 95 percent of bacteria.
Has a soft-glowing night light.
Power switch with two output settings.
Medicine cup for use with Vicks VapoSteam.
Pros:
It is good for larger rooms.
You can use it with any type of water.
Cons:
Has no white dust protection.
This Vicks machine is the only product on the list that can be used with any type of water. Its antimicrobial properties and features make it a great choice for any household.
Conclusion
The air you breathe can pose serious health problems. There are dangerous viruses and other organisms floating in the air that can linger for long periods of time.
An ordinary humidifier is not what you need to address this problem. It gets even worse for those who suffer from breathing problems that are exacerbated by indoor air pollution. Any of these machines may be able to help relieve some of your worst allergy and asthma symptoms. As always, you should seek advice from your doctor.