Looking for the best humidifier for dry skin? This article will guide you through the reviews of the best type of humidifier for to tackle dry air and the dry skin problems associated with it. In addition to this, we'll also take a look at the utilization of warm vs cool air in humidifiers and how this relates to dry skin.
This guide is designed to help you decide how to best go about keeping your skin moist, and feel free to check out our best whole humidifier guide as a great supplement to the information below.
Humidifiers Vs Dry air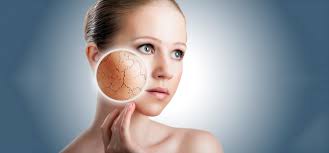 Studies have shown that dry air affects the human body system in four distinct ways. First off, breathing dry air is shown to increase the risk of developing respiratory illnesses like asthma, bronchitis, nosebleeds or sinusitis.
Second, dry air also leads to dry skin bringing with it skin irritation and itching eyes. Third, dry air and the low humidity associated with it generally leads to quite a few discomforts, like the easy buildup of static electricity and metal shocks.
Fourth and finally, people often report feeling warmer or cooler than the normal reading from their thermostats. This happens because the moisture presents in the air influences people's sensing of temperature. The good news is that these problems can be solved by regulating moisture and humidity indoors, and while this can sometimes be attempted through home remedies, utilizing a  humidifier to generate steam and vapor is easily the most effective method.
How Does Humidifier Help Dry Skin?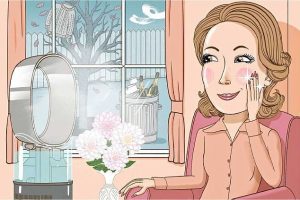 Dry itchy skin is common among people during winter. During this period, the climate is generally cold; this leads to low temperature, low humidity levels and is often accompanied by strong and harsh winds.  These changes can reduce natural moisture output by the skin and result in dry, irritated skin. In addition to this, people are then forced to turn on their heating devices during winter, and the dry air emitted by these systems only further reduces the moisture in the air.
In light of all this, the question remains: can a humidifier help individuals suffering from dry skin? The short answer is: yes. Simply put, to be able to restore your soft skin back you need to add moisture to your dry skin and eyes, and this is best accomplished via humidifiers. In fact, such a remedy is even often recommended by doctors!
If you are living in an arid, dry climate where the relative humidity level is low or you find yourself fond of using heaters during winter days, a cool mist humidifier for dry skin is what you need to keep your skin lubricated.
The resolution is simple: during winter weeks add a dry skin humidifier to your room and shut the door and windows to help retain the moisture within, and to get you started, we have a great list of humidifiers to help combat dry skin below!
Best Humidifier for Dry Skin Reviews
1. Honeywell cool mist for dry skin Review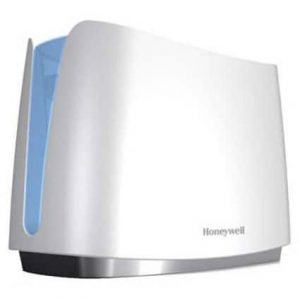 The HCM-350 Honeywell is able to release the ideal moisture required for a medium-sized room.
The cool mist that will tackle your dry skin comes from a featured two gallon, easy-to-carry water reservoir. In addition to this, the big water reservoir is break resistant and dishwasher safe, rendering it both sturdy and convenient.
This model from the Honeywell brand uses advanced UV technology that kills up to 99.9% of bacteria, spore, and fungi that live in water. It releases no pollutants for the ease of mind to those of us that suffer from allergies.
With a Quietcare technology, it produces less noise even when on the highest setting, and thanks to an antimicrobial treated filter, it likewise helps to trap minerals and particles from the water. Not to mention, we think you will love the auto moisture regulator settings which automatically regulates moisture output. We recommend it as one of the best humidifiers for sinus allergies.
Features
QuietCare Technology.
3 speed settings.
Wick filter removes impurities.
Runs up to 24 hours each filling.
Pros
Optimum for medium sized rooms.
Germ free technology destroys more germs, molds and spores in the water.
Safe dishwasher and antimicrobial treated filter
Cons
Does not shut off automatically.
This Honeywell cool mist works efficiently and delivers moisture that will moisten your skin while running silently for a good night's sleep.
Check Pricing and Reviews on Amazon
 2. TaoTronics Ultrasonic Humidifiers for Bedroom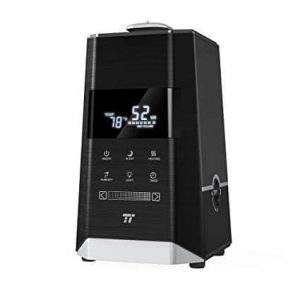 The TaoTronics ultrasonic humidifier is a dual mist unit that produces cool and warm mist and is a perfect unit for any bedroom. You're able to enjoy a variety of mist types with just the simple press of a button.
The warm mist is good for addressing sinus problems, sore throat, and cold weather, while the cool mist is perfect for cooling off during hot weather and provides essential comfort for a baby's room.
By choosing this TaoTronic humidifier you will enjoy vaporized mist all over your home thanks to the even distribution of its dual nozzle that rotates 360 degrees. Additionally, this humidifier features:
LED display.
Filterless operation
360 degree nozzle rotation.
Personalized humidity settings.
A Humidity sensor
The TaoTronic humidifier also eliminates the maintenance of washing and cost of replacing filters. And since it delivers both warm and cool mist, you don't need to buy two separate units, a feature that really separates it from much of the competition.
Check Pricing and Reviews on Amazon
3. Honeywell QuietCare 3-Gallon Tower Humidifier6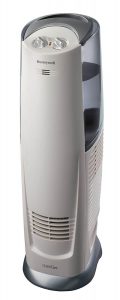 This is tabletop designed unit ideal for use in large rooms, small rooms, and offices. The unit comes with a 3-gallon tank which can run for up to 24 hours. With its quiet care function, this machine can also run without disturbing the peace allowing you a great night's sleep.
You can adjust the humidity level with its 3 fan speed settings to meet your personal comfort preferences, and you won't have to bother worrying about the growth of germs in the water tank thanks to its antimicrobial protection which prevents bacteria and germs. Other features include:
Evaporative mist
Uses a filter
Quitecare technology
3 speed fan
24 hours run time
Humidity adjustment
Pros and Cons
This is perfect room humidifier for dry skin that you can easily carry from one room to another. It is also has a low cost of maintenance but will require occasional filter replacement.
Check Pricing and Reviews on Amazon
4. TaoTronics Cool Mist Humidifier Upgraded Version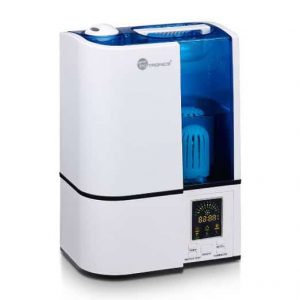 This is another reliable unit which can deliver cool mist to soothe dry skin. With its micro-porous cartridge, you will be provided with clean, odorless air free of harmful microorganisms.
While you run the upgraded TaoTronics, you can set desired humidity level without over humidifying your home.
It comes with over a 1-gallon tank capacity which will last you up to 15 hours, even powering through the night providing cool mist for your room while you sleep. Additional features in this unit are:
Mist level control
Sleep mode
Built-in timer
Rotatable nozzle
Ultrasonic (doesn't use filter).
If you are thinking of getting this unit, make sure you empty the tank completely before each refill, and avoid shaking the tank if it ever isn't working. Last but not the least, this ultrasonic unit is generally quiet which make this unit a perfect choice for baby's room.
Check Pricing and Reviews on Amazon
5. Honeywell QuietCare Humidifier for Skin Dryness Review

This is another Honeywell humidifier you can consider for dry eyes, itchy skin and sinus problems. If you are living in a home of 2,300 square feet and you are struggling with dry air, the QuietCare for Skin Dryness is the machine for you. It comes with 3.5-gallon dual tanks, is easy to refill, and cleans easily from the wide opening top.
This device features 3 moisture delivery settings and lets you adjust relative humidity to meet your needs. Unlike other competitive models that can be noisy, the Honeywell cool moisture humidifier works with a minimal sound, meaning this console is also fairly advantageous for a baby's room.
The pre-filter readily holds dust and pollen that would otherwise end up in the water reservoir, and the antimicrobial filter simultaneously restrains the movement of algae, bacteria, and molds.
For better performance, we advise you mount the console unit on a ceramic or non-wooden surface. You will find this humidifier helpful to soothe your dry eyes and to eliminate winter dry air.
Features
Multiple output settings.
Adjustable moisture control.
Dual water tank.
Automatic shut-off
QuietCare technology
Pros
It creates less noise.
Germs free and good for allergies.
Has a large tank opening for easy cleaning.
It runs for 24 hours each refill.
Energy efficient tested.
Cons
For sinus problems, dry air indoor, dry eyes and itchy skin, you can rely on this Honeywell HCM-6009 Cool Moisture Console Humidifier.
Check Pricing and Reviews on Amazon
6. Vicks Warm Mist for dry skin and flu Review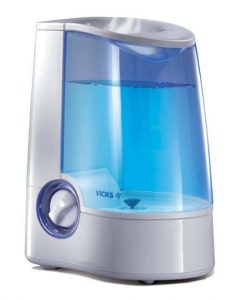 Relying on the Vicks warm mist for clean steam vapor in your home could help you get relief from flu, dryness, and other symptoms of allergies.
In order to provide the best quality air, the Vicks humidifier boils the water to eliminate harmful germs such as mold and water bred organisms. This helps further reduce the possibility of contracting a cold or the flu. It likewise has a 1 gallon capacity of water that will last you up to 12 hours.
Noise pollution is also eliminated thanks to its quiet operating system, and no need to worry about shut off as it will shut off by itself when water reaches the minimum level.  The two comforts setting on this Vicks humidifier will let you control moisture output as desired.
Features
Has 1 gallon tank.
Runs up to twelve hours per filling.
Two comfort settings.
Automatic Shut-off
Pros
Runs quietly.
Eliminates 96% of bacteria.
Amazing glowing nightlight.
Medicine cup usable to create medicated vapor.
Cons
Design for single room usage.
This warm mist humidifier releases steam vapor good for flu and cold problems. For people living in a small space apartment, this steam vaporizer is a great choice. Above all, Vicks Warm Mist for dry skin and flu is one of the less expensive options.
Check Pricing and Reviews on Amazon
Final thought
Winter causes dry air, and dry air leads to dry skin and various health problems. Respiratory issues such as lung ailments may result from dry air because the body lacks moisture needed for ease of breathing.
If you are living in a dry climate region, you will probably experience dryness, and getting a humidifier can help resolve the issues that result accordingly. We believe this list of the best humidifiers for dry skin discussed here is able to guide you in picking the best humidifier for your dry skin.