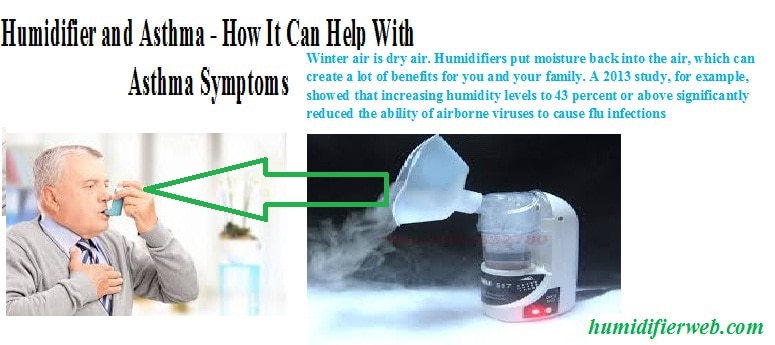 "Humidifier and Asthma; learn what you don't know."
People suffering from asthma should know they need a normal level of humidity in their air at home to breathe properly. If the air in your home is too dry, it will make your symptoms worse. If your home is too humid, it will also make your symptoms worse.
Even though asthma is a chronic condition that requires treatment by a doctor and prescribed directions, there are various humidifier benefits for asthma-stricken patients, as long as the unit is used properly.
How Humidifiers Help Asthma Symptoms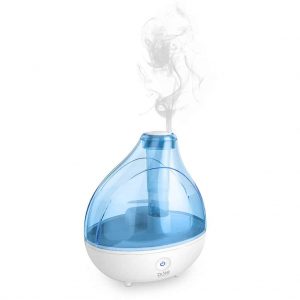 Asthma impairment is a condition that affects different sections of our respiratory system. That's why it becomes life-threatening during sudden development. Not only does the airway become inflamed, but it can also cause constriction of the breathing muscles. It can also cause a sudden swelling of the airway and a  heightened amount of thickened phlegm. It can cause an asthmatic person to feel as if they cannot breathe; in serious attacks, the person may become unable to breathe.
These symptoms of asthma may be controlled to reduce the number of asthma attacks indoors. By relieving the irritation of dry mouth, throat, and nose through the addition of humidity, the asthmatic patient's minds can be put to ease as symptoms quell. With the use of humidifiers, a better breathing level can be achieved for some people with chronic breathing problems.
A humidifier machine provides moistened air at the exact temperature desired, which helps relieve some breathing problems naturally. Nasal sprays and over-the-counter medications (OCM) can help as well open the airways, but they usually come with a wide range of side effects that are not present in your clean humidified air. Any individual suffering from an asthma disorder who does not want to take drugs should consider a humidifier.
How to Humidify? The Right Model for You
There is a wide range of humidifiers on the market. Many of them offer different features and benefits. How do you know which is right for you? Here are a few examples.
1. Steam Vaporizer:
This is the most prevalent type of humidifier available on the market. This version heats water to a boiling point and releases the steam into the air through a vent. This is a good choice for an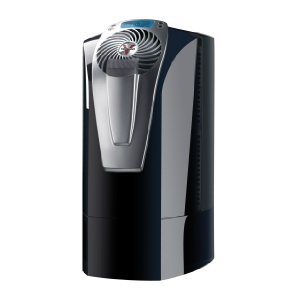 asthmatic patient that prefers warmer mist home air. However, because the tanks are being heated, they require regular cleaning.
2. Warm Mist Vaporizer:
There is another type of steam humidifier, but this one heats the water and then cools it to a degree to lessen the heat produced. If you are experiencing issues and prefer a humidifier that reaching an exact temperature, this type of product is a good option for you.
3. Cool Mist Humidifier:
These models function in different ways. Some versions come with a rotating fan or disk and wick system that disseminates the mist into the air. Other types use ultrasonic frequencies to blow the water into smaller particles. Whatever method you think is best for you, know that cool humidifiers produce cool mist air and make your home air feel cooler. Since they don't have a heating element, they are known to be energy conservative.
The effectiveness of the model depends on the desired humidity temperature. The size of the room will also affect the temperature change. Nonetheless, cool mist humidifying systems tend to cover a wider area.
Maintenance is the Key to Controlling Asthma Symptoms
The best way a humidifier can be beneficial for someone with asthma problems is to maintain it properly. Humidifiers that aren't cared for may become a thriving place for viruses, bacteria, mold and other susceptible factors that can contribute to other breathing issues. All of these can be dangerous to health. Here are some important things for asthma suffering individuals to remember:
1. Use Pure Water:
The fastest way to invite pollutants into your humidifier is through the use of ordinary water that contains plenty of bacteria or mold. Using purified or distilled water is the best way to avoid that entire problem. Keeping pollutants from your humidifier tank will also simplify maintenance.
2. Keep It Clean:
Humidifiers used by asthma sufferers should not contain stagnant water when not running. Empty the tank and rinse thoroughly daily before storing it. Make sure it is fully dried by hand where necessary. By doing so, it will lessen the need to have to clean it with any harsh chemicals.
3. Go to the Light:
Most high tech asthma humidifiers come with ultraviolet lights inside the unit to help to prevent growth and the spread of fungi and mold. This is significantly useful if you decide to leave the humidifier turned on for periods of time. The more time the water is heated, the more it becomes less contaminated.
4. Don't Overdo It:
Some people are so excited about the benefits of their new humidifier that they leave it on for too long. Too much indoor humidity is as bad for someone's breathing as dry air. You can get a hygrometer to determine your indoor humidity levels. Any deviation above 45 percent is considered to be a high indoor humidity and not safe as these levels will promote the habitation of mold, and fungi.
By buying the right humidifier for your home and doing regular maintenance, you will see the benefits of humidifiers for asthma conditions.