Are you looking for the best humidifier for a bedroom? We're here to highlight some bedroom humidifiers to help you make your choice. Humidifiers are a great device to help you retain your skin moisture, free blocked nasal passages, and protect you from various other health hazards related to dirty air.
Your home will benefit greatly from the utilization of a humidifier! If you live in an arid climate or find yourself overly relying on your heater in the winter time, you'll likely notice your indoor air to be lacking a significant amount of moisture. Buying a humidifier is a great consideration to make in remedying this predicament.
Simply purchasing a humidifier is not the biggest problem, but getting the exact right humidifier for you and your bedrooms is the issue at hand. It can be a tricky endeavor, and before plunging in, here are some of the things we should consider:
A bedroom humidifier should run quietly so that your sleep doesn't get cut short. Accordingly, if you have an infant in the house, the last thing you want is a humidifier that sounds like a nightclub.
Space is a valuable commodity in our bedrooms, so choosing a humidifier that isn't too bulky and fits our set up just right is a must!
Another aspect you may have to be concerned about cleaning and maintenance. Since you will be running it almost every night, dirt will likely accumulate and require cleaning.
Additionally, you'll also want to consider tank capacity, especially if you're hoping to have a humidifier that can run throughout the night and not require you to wake up just to refill it.
And finally, we've always got to consider the budget. It is not a guarantee that expensive humidifiers are better, and a little research is always required to find a good unit that will work best for you.
With these tips in mind, we'd like to review some of the best bedroom humidifiers on the market below!
Top 7 Best Humidifiers for Bedroom Reviews
Honeywell HUL535B Review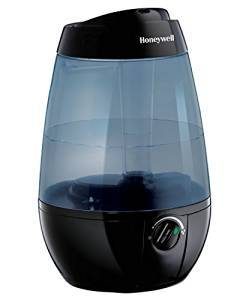 For those with a small to medium sized bedroom, here is the HUL535B humidifier from the top-rated manufacturer, Honeywell. This unit is designed to deliver cool mist into your room to drive out the dry air that disrupts your or your baby's great night's sleep.
Thanks to a 1-gallon tank capacity, you can easily run this Honeywell cool mist for up to 24 hours.  It features an automatic empty tank shut-off for peace of mind. This unit uses no filters and works quietly which make it one of the suitable humidifier for the bedroom.
Features
It comes with 1-gallon water reservoir.
Produces cool mist.
24 hour run time.
No filter required.
Variable moisture settings.
Pros
Easy to clean, especially when compared with competitors.
Only needs to be refilled once per day.
Has a quiet mode of operation.
Directional component lets you direct where you want the mist released.
Two-year warranty.
Cons
The light has been reported to be somewhat intense.
Pure Guardian H920BL Review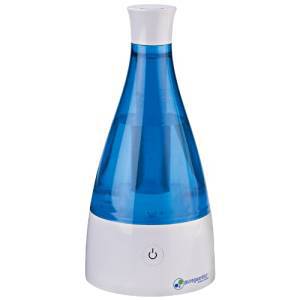 Another product you may want to consider provided you the need moisture in your bedroom is the H920BL. This humidifier comes from the well-known manufacturer called, Pure Guardian who carries a reputation for customer satisfaction even though their products are not a household name.
The Pure Guardian is a tabletop appliance designed perfectly, not only for the bedroom, but also for kids' rooms, nurseries, offices, and medium-sized rooms.  It comes with a 0.8-gallon tank that can run for up to 10 hours.
This humidifier is not like other competitive models that often allow the growth of mold. Instead, the H920BL utilizes a silver clean protection to prevent the growth of mildew and mold on the tank surface. In addition to this, the Pure H920BL Guardian is compact in size allowing for easy transport, even on business trips!
Pros
Ideal for people with allergies and dry skin.
Good for medium-sized rooms.
A good unit for travel trips.
Compact enough to fit conveniently on a desk.
Easy to use and set mist level to preference.
Silver clean protection helps to prevent mold and mildew growth.
Comes with an optional light that makes it good for a nursery bedside.
Quiet mode as not to disrupt your night sleep.
Backed up with 3-year warranty.
Cons
The tank size may limit its ability to operate through the night, however, it will shut off automatically upon empty.
The Guardian saves you the cost of buying a travel humidifier as you can readily use it almost anywhere. It also minimizes your desk clutter while the unit delivers soothing mist to combat dry skin and allergies.
Honeywell HUL520W Mistmate Review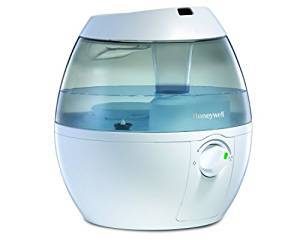 The Mistmate is another wonderful product from the well-known Honeywell Company. Small and portable compared to the Honeywell HUL535B discussed earlier, the HUL520W Mistmate, is a very powerful appliance geared at raising the humidity levels of your room faster and more efficiently.
The Honeywell HUL535B comes at both an affordable price and convenient size that work to its favor and the satisfaction of its users. The unit features a 0.5-gallon capacity tank capable of lasting for up to 20 hours. It produces a visible mist with virtually no noise, all to your enjoyment and satisfaction.
Pros
Affordable
Small and portable size, easily carried and transported
Recommended for small room use.
20 hours of run time per tank filling.
Auto shut off when empty.
Two-year limited warranty.
Cons
No information on water tank protection against the growth of mold. However, it is advised to use treated water instead of tap water with the Honeywell Mistmate.
Honeywell HCM350B Review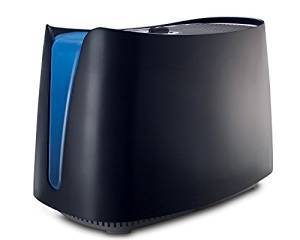 If you find yourself in need of a germ-free humidifier for your bedroom, the Honeywell HCM350B is one of the best humidifiers on the market suitable for bedroom use. It has the ability to kill up to 99.9%  of germs while leaving you with safe, refreshing air and revitalizing moisture to your skin.
In addition to its germ-fighting capacities, the Honeywell HCM350B is also ideal for those of us that love our sleep as its quiet mode allows it to operate quietly and efficiently without disturbing your rest.
Its water tank is also break- resistant meaning this unit will serve you for years to come granted you provide it with the proper maintenance and upkeep. This humidifier is ideal for both large and small room usage.
Features
A replaceable filter.
Patented germ killing chamber.
Three-year warranty.
Pros
Easy use and set up in just a few steps.
You don't need to remove the tank to refill it.
It works quietly and does not change the room temperature.
No bacteria or mold growth due to its a germ-killing ability.
Cons
Can be considered a bit big and bulky
Filters require replacing every 6 to 7 months (reoccurring cost of running the humidifier)
Ultrasonic Cool Mist Humidifier – Premium Humidifying Unit with Whisper-quiet Operation, Automatic Shut-off and Night Light Function.
Pure Enrichment Ultrasonic Cool Mist Review
Another amazing humidifier on our best bedroom humidifier list is the Ultrasonic unit from the manufacturer Pure Enrichment.  As the name suggests, this humidifier provides cool mist that enriches dry skin with moisture to relieve you from health hazards caused by dry, indoor air.
Its artistic design coincides well with the décor of most homes, and will even go well with the baby's room. Everyone stands to benefit from the quality air in the home, which is all the more reason to look into the Pure Enrichment as your choice of a bedroom humidity adding device. For the best result, you should use this humidifier for small or medium-sized rooms, bedrooms or offices. What more? Continue below to see some outstanding features, as well as some pros and cons!
Features
It is an ultrasonic moisture machine.
Designed to automatically shut-off when water tank is empty.
Comes with a 360-degree nozzle for mist distribution.
Dual speed settings to achieve comfortable mist level.
It comes with an optional sleep- light.
This unit is equipped with a 1.5-liter water tank.
Can run for 16 hours depending on settings.
Pros
Affordable, even for those on a tight budget.
You will love its ultra-quiet operation.
Ideal for rooms of about 200 square feet.
It provides mist that relieves dry skin, cold, flu, sore throat, and static build up.
Cons
This item only provides cool moisture.
Not suitable for larger rooms.
The LED night is sometimes too powerful.
If you need an ultrasonic humidifier for your bedroom, office, nursery, or kids' rooms, this is the ideal machine for the job in terms of performance and affordability. Shop for a humidifier that will make you breathe easier, and a unit that relieves you from snoring at night!
Anypro Ultrasonic Cool Mist Review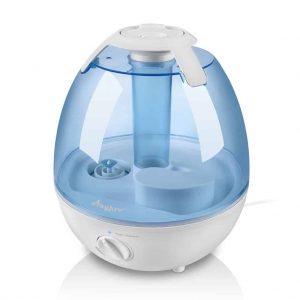 The Anypro is another great machine with smart features that will let you maintain your desired level of indoor humidity. The capacity of this humidifier to affect up to 500 square feet makes it ideal for use in large rooms. With 3.5 liters of water storage, this unit will last you for 20 to 36 hours depending on its settings.
In addition to this, the tank is equipped with antibacterial protection material to fight mold development, meaning you can use tap water or distilled water with this product without having to fear the buildup of harmful microorganisms.
Pros
It has a 500 square feet coverage area.
Antibacterial protection to suppress mold growth.
Features a 3.5-liter water tank which runs for up to 24 hours.
Choose from different night light colors such as red, blue, purple, yellow, green and pink.
Adjustable humidity level.
Enjoy 360-degree moisture dispersion.
Cons
It does not shut down automatically when water tank is empty.
Requires distilled water for optimal functioning.
Required cleaning at least once per week.
Rosewill RHHD-14002 Review Black Quiet Review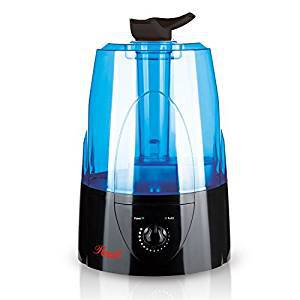 Creating a comfortable, cool bedroom or office environment is far easier to achieve with the RHHD-14002 humidifier. Feel the mist from every corner of the room thanks to a rotating 360-degree dual mist nozzle, meaning you don't have to stress yourself out every time you want to move about your room while still enjoying optimum moisture levels.
Thanks to its 5-liter capacity, you'll find yourself enjoying plenty of moisture, and its built-in LED night gives you soft glowing light to help you at night. Whereas most competitive models create a hassle by requiring you to shut the machine off once the tank is empty, the RHHD-14002 shuts off automatically as soon as the reservoir empties.
Features
It comes with a dual nozzle that rotates 360 degrees.
It has variable moisture control.
Automatic, empty tank shut-down.
No filter required.
Pros
Built-in handle that facilitates easy carriage and refilling.
Operates quietly.
Cons
Only delivers cool mist.
Not ideal for travelling.