Maintaining a proper humidity level in your home using the Essick Air H12-400HB 3-Speed Whole-House Console-Style Evaporative Humidifier is a breeze. Dry air is capable of causing harm to your skin, lips, indoor plants, and electronics. Humidification helps to manage health problems that can be caused by agents of allergens such as pet dander, dust, and others. A good home humidifier like the H12 can help protect you and your family.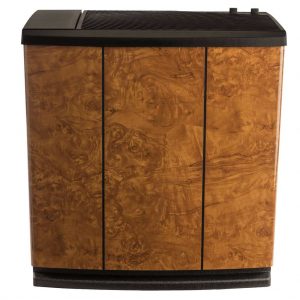 The Essick Air H12-400HB is an evaporative humidifier system.  The humidity machine works quietly and disperses humidity in an entire home of up to 3,000 square feet. This humidifier releases up to 12 gallons of water per day. It comes with a digital readout screen for easy humidity set up and adjustment. It's analog dial button controls let you adjust the fan speed and the humidity levels to meet your requirements. The machine is made to be transported easily and features easy mobility. The comfort humidity sensor ensures that accurate levels of humidity are distributed.
The Essick Air H12-400HB Evaporative Humidifier Features

Here are the Essick Air H12's specifications:
Humidifies area up to 25,000 sq. ft.
Releases up to 12 gallons of water output daily.
Analog Controls and Digital readout offer easy operation.
It helps to protect your skin, houseplants, furniture, and electronics against harmful dry air.
Equipped with a rolling caster for ease of mobility.
One year limited warranty.
Pros
The unit humidifies up to 3,000 sq. ft of living space.
Three speeds for adjustable humidity and noise level.
It comes with a digital hygrometer.
Evaporative humidifier design.
The casters offer portability.
Compact footprint with oak finish.
No "white dust" or spray.
Cons
It can produce noise when on high-speed fan.
Location of control panel causes inconvenience.
1-year limited warranty.
Requires little assembly.
If you decide to invest in a humidifier, you'll like the features you get with the H12. The Essick Air H12-400HB humidifier does exactly what you need. The included hygrometer makes sure your humidity level is just right.  Choose from one of the three speeds to get the perfect humidity level every time. Feel confident with your purchase of the one-year limited warranty. Its oak burl finish goes easily with any room decoration. With the included caster wheels, moving your humidifier from one place to another is quite easy.  However, the Essick Air Whole House Evaporative Console Humidifier is a bit bulky compared with other similar compact units. Still, it is a great, versatile option!