Whether it's the dead of winter already or it's a few months away, you know the cold air is coming. Dry winter air can make people more vulnerable to various health complications. A humidifier can help restore the humidity in your home.
We spend lots of money on healthcare for problems that could have been prevented. Certainly, there are many factors that can make a person sick. Dry air from winter contributes as well. Our health is very important, so we should pay attention to it. We should remember to budget a certain amount of money every month for products to help take care of ourselves.
Winter can be uncomfortable and can bring about problems like dry skin. A humidifier could help the situation. In this article, we're going to take a look at the top three best humidifiers that help fight dry winter air.
Top 3 Best Humidifier for Winter Reviews:
1. Honeywell Easy-Care Cool Mist HUT-200 Review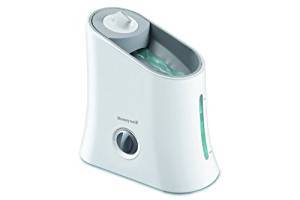 The Honeywell HUT-200 is a great option to help reverse the effects of dry air. It is made with a solid, sturdy, and well-balanced design to keep offering you the mist you need for a long time. It has a cool evaporative mist to help soothe your skin, eyes, nostrils, and sinuses. It uses no filters and is simple to operate and clean.
Refilling the top one-gallon tank is easy. The unit requires little maintenance. There is a demineralized cartridge that helps remove mineral deposits from the water before distributing it into the air. When you overfill the tank, the excess water flows down through the waterfall channel to keep it circulating.  In addition, it is designed with a small fan that propels the tiny mist droplets into your room.
Features
Two output settings.
46-hour run time.
Self-regulating mist system.
Illuminated water window.
Medium-sized room humidification.
Pros
Good price.
Great design.
No filter to change.
Cons
No automatic shut-off settings.
Only delivers cool mist.
Bottom line
This unit comes with great features at a reasonable price. Most importantly, it works efficiently and is easy to carry from room to room. It does not use filters, which will save you the cost of having to replace them.
2. Holmes Ultrasonic Humidifier HM495 Review

This is an ultrasonic humidifier, which is ideal for living rooms, bedrooms, or the office. Compared to the Honeywell above, this humidifier has a larger water capacity of 1.3 gallons. When filled, it can run day and night, releasing mist into your home. With variable mist control settings, you'll be able to adjust the mist level according to your changing needs. It does not have a filter, so you won't have to worry about cleaning or replacing them.
The Holmes plastic tank is coated with antimicrobial protection that helps prevent bacteria growth, which can cause stains, odors, and may affect its performance.
Features
1.3-gallon tank capacity.
No filter.
Antimicrobial protection.
Variable mist settings.
Pros
Not expensive.
No need to spend money on filters.
Space-saving design.
Resists bacteria growth.
Cons
Not a warm mist unit.
Only recommended for medium-sized rooms.
Bottom line
The Holmes Filter-Free Humidifier is among the best humidifiers on the market. It has a great list of features that justify its price. However, it does lack some features, like an automatic shut-off function, and is not for large rooms. Still, we think you'll love this humidifier.
3. Holmes Warm Mist Filter-Free for Small Rooms Review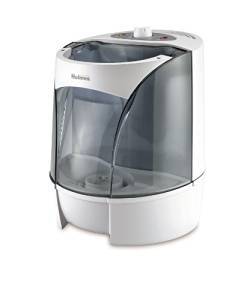 The next humidifier on the review list is this offering from Holmes. The first two discussed on this list are cool mist humidifiers. This one provides warm mist. If you need a warm mist humidifier for the winter, this is a great option. This Holmes model is designed for use in small rooms. Its 0.9-gallon water reservoir will last up to 24 hours on each fill. Two speed settings are included for mist regulation. Like the Holmes HM495 model, this model has antimicrobial properties to help fight against mold and other issues.
Features
Designed for small rooms.
It is filter-less.
Two speed settings.
0.9-gallon tank that can run for 24 hours.
Antimicrobial treated cap.
Pros
Easy to clean.
Filter-free.
Lightweight.
Transparent water tank.
Cons
 Cannot be used in large rooms.
Generates warm mist only.
Summary
This is the only item on the list that delivers warm mist. For those who don't like cold winter air, a warm mist humidifier like this one is a fantastic choice. This item only has two mist settings, high and low.
Wrap-Up
As we all know, winter air can pose threats to our health. Although we cannot stop it from happening, we can take steps to reverse some of its negative effects. Now that you are familiar with the benefits of a humidifier and know a bit about what makes them different, weigh your options, and choose the one that's right for you!