The Honeywell Cool Moisture Console Humidifier is designed with maximum power for moisture delivery into your home. Winter air is always dry. The dry air can negatively affect both you and your home.
The Benefits Of Humidification You Must Know
Maintaining normal humidity levels between 43 and 60 percent can help to treat symptoms of allergies. It can help by soothing itchiness, dryness, and irritation in the sinuses, nose, nasal passages, throat, mouth and eyes. Some people think pet hair is what causes allergies. In actuality, the cause of allergens from pets is from their dander. Adding humidity to your home air will lessen pet dander and help relieve other allergy symptoms.
Well-humidified air can reduce static electricity and lessen the risk of causing damage to your sensitive electronics like your desktop, laptop, TVs, tablets, and sound systems.
The Honeywell Cool Moisture Console Humidifier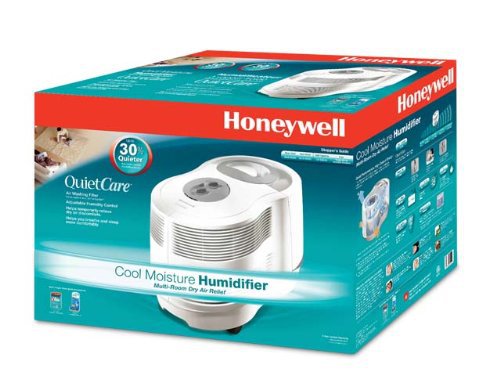 As you can see, having properly-humidified air is important. However, finding the right humidifier to meet your needs can be a challenge. The Cool Moisture Console Humidifier comes from the respected brand, Honeywell. This air humidifier is designed to deliver cool mist to the air and is reasonably priced. The controls on the device will help you find the perfect humidity level without causing your home to become too damp.
With the innovative Quiet-Care Technology, this device runs more quietly than some of its competitors. It also won't have a huge impact on your electric bill, as the humidifier uses less energy than that of an 80-watt light bulb. The dual tank system has a wide opening, allowing you to refill it with ease. With the automatic shut-off feature, this humidifier will safely shut off when the water level is too low.
Honeywell Cool Moisture Console Humidifier Features

Multiple output settings.
Adjustable humidity control.
QuietCare technology.
Low energy consumption.
Dual tanks with a wide opening.
It runs up to 24 hours per filling.

Advantages
The Honeywell Console unit is quiet and can be used for multiple rooms, consumes less energy, and has adjustable humidity level controls.
Disadvantages
Some customers complain that refilling the tank can be difficult.
Final words
Of all the cool mist humidifiers available to you, the Honeywell Cool Moisture Console Humidifier is a great option that will meet all of your expectations.