Honeywell HE360A Whole House Humidifier is a great solution to deal with the cold, dry winter air which can pose serious threats to your healthy living. Remember, the average home humidity level during winter can fall below 15 percent which is a high deviation from the normal recommended humidity levels of 35 to 45 percent. Initially, you might not notice it; over time, poor moisture may cause a negative effect on your health and family. The symptoms of low humidity include dry skin, congestion, dry hair, and others.  Peeling, cracking, and warping becomes common among your home equipment.
A whole house humidifier is a recommended solution if you want to humidify your entire home. It can help restore the percentage of normal indoor humidity. One of the best and most popular air humidifying machines available on the market is the Honeywell HE360A Whole House Humidifier. This product consistently gets positive customer reviews and is a great choice to get the job done!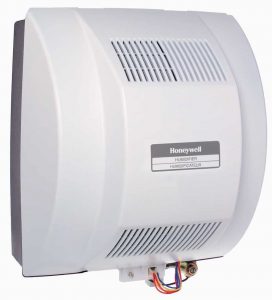 Why you need this whole house humidifier?
Honeywell is a brand that people in the HVAC community have come to trust as a reliable product. This Honeywell HE360A humidifier is best for well-built, insulated homes of up to 4,200 square feet. It can also be used in homes as small as 1,900 square feet. This machine is an ideal unit for people looking to find a way to reduce their electricity bill and reduce water consumption while also using a humidifier.
This Honeywell whole house humidifier is capable of solving your family's woes that are caused by dry air. Because it is a whole house unit, you only need one to use with your in-duct system. It can work and adequately spread humidity throughout your entire home!
Product Description
Below are the major features packaged in this Honeywell humidifier system:
1. Coverage area of about 4,200 square feet and 8 feet Ceilings: Homes that are properly insulated will effectively benefit from this unit. However, if your home is not well-insulated, you'll not get the same results or the level of efficiency. For homes with nine-foot ceilings, this device is only effective up to 1,800 square feet.
2. Easy installation to your ducts: All the necessary information required is included to make installation stress free. Most users have set their unit up in a few hours.
3. Flow-through humidifier system: This feature helps to cut down high electricity consumption steam systems and also prevents the mildew and mold problems that may happen with drum-like systems. The working principle blows the unit air through a damp filter sponge, giving room for air to gather up water particles and release them around the home as it runs.
4. Replaceable filters: It comes with a replaceable filter that needs to be changed as soon as you notice it's dirty. You must do this to keep it working at 100 percent capacity to avoid mold problems.
5. Comes with installation kit: The entire requirements for the system installation are included.
6. Mount on return or supply ducts: The system is compatible almost anywhere, you can attach it your duct system or simply place it on the return duct or the supply duct.
The Pros and Cons
Before you think of considering this whole house humidifier, you should know the pros and cons of the Honeywell HE360A Whole House Humidifier. Below are the pros and cons that have been summarized from those with experience with it.
Pros

Do it yourself installation.
Built-in humidistat turns on and off the system.
Small in-duct size.
High-efficiency power usage.
1-year warranty.
Cons

Customer service is poor.
High water usage.
Some parts of the unit may be defective.
Findings about the Honeywell HE360A Whole House Humidifier
Using whole house humidifiers can make the task of increasing humidity levels in your home much easier. This Honeywell HE360A system seems to measure up to most homes' needs, although those whose homes are not well insulated or are poorly insulated may not get the maximum benefits of the machine.
Also, if you lack much knowledge about do-it-yourself projects or about electrical, the defective electronics parts that occasionally come with this system may give you more trouble. The best way is to replace them even if you have a little knowledge about the installation process. If your unit is still within one year of the warranty, you can send it back to get a new machine without charge.
The unit is a good choice for a mid-range insulated house and should serve you for years without problems if properly installed and maintained.
Conclusion
Indoor humidity levels can be controlled with the use of a whole house humidifying machine such as the Honeywell HE360A humidifier. This unit has the power to increase your home's humidity levels and comes at a great price.