We're proud to present the Opolar 3.8L ultrasonic humidifier review for those looking for a high quality, top fill humidifier. This tabletop mounting or floor humidifier comes with a basic design that offers easy operation with optimum features to enhance performance.
This top filling cool mist humidifier is designed to humidify a whole room, whether a large living room or bedroom space. The Opolar humidifier distinguishes itself as pristine and reliable thanks to its large capacity water tank which provides you with an ample amount of mist to add valuable humidity to the air you breathe at home.
Not all humidifiers come with an essential oil container like you find in this top filling ultrasonic humidifier. By adding essential oil to your humidifier, you take your indoor air to the next level by instilling it with a refreshing and aromatic fragrance to liven the atmosphere around you. The dual filter system prevents airborne pollutants from entering your home air preventing you from a host of health issues.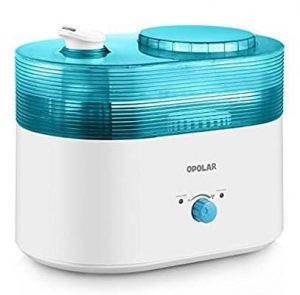 Features
Dual filter system; silver ion and carbon cartridge.
Top filling water reservoir.
Nozzle for mist distribution.
3.8 gallon capacity with a wide opening.
400 square foot coverage area.
Pros
Easy to use essential oil humidifier.
Easily cleanable.
Easily refillable without removing the tank thanks to large, easy-fill opening.
24 hour run time.
Automatic shut-off when the water level is low.
Ideal for home and office use.
Cons
No digital system
Requires filter change every two weeks depending on usage.
Customer reviews on Amazon are very interesting on the tabletop whole room Opolar humidifier. Most users remark that cleaning is a breeze, and instead of relying on the use of harmful chemicals for cleaning, you can easily use your hand because the tank has a wide opening that will easily accommodate your hands.  The user also noted that its essential oil option makes it an outstanding unit that eliminates the need of getting a separate machine for devoted strictly to essential oils.