Be prepared for dry winter air. Humidifying your home with the Vornado Evap2 Whole Room Evaporative Humidifier will save lots of money and may help you avoid health problems associated with dry air. Dry air can cause skin irritation, nasal congestion, and more. Although there is no shortage of options for those interested in a humidifier, the Vornado Evaporative Humidifier is one of the best choices available for your home.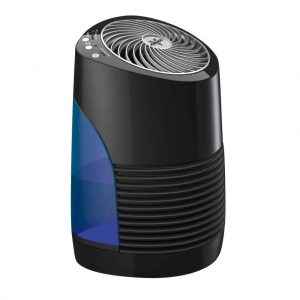 The Evap2 is reasonably-priced for nearly any budget. This whole-room unit is portable and lightweight, making it easy to transport from one room to another. The attractive Vornado Evap2 uses a vortex circulation process to humidify rooms up to 600 square feet.
The Whole Room Evaporative Humidifier machine is designed with convenience in mind. It comes with an electronic humidistat for automatic humidity regulation and three fan speed options that can be changed at any time. The LED control lights make operating this unit a breeze.
This humidifier features a one-gallon water reservoir that can deliver up to two gallons of output per day. It comes with a five-year limited warranty.
Features
600 square foot coverage area.
Automatic humidistat.
One-gallon tank with two-gallon output every 24 hours.
LED light.
Cool mist.
Working principle of this item

The evaporative unit uses deep pitched blades to pull high volumes of harsh, dry air through the unit. Then, it uses Vornado's signature Vortex Force to circulate the humidified air into your room, providing even and balanced humidification.
This Vornado humidifier can also help recover and redistribute heat, which can be especially nice during the winter months.
How to use the Vornado Evap2?
Simply unpack it from the box and assemble any parts if necessary. Follow the user's manual. Rinse the water tank properly and fill with water (purified or distilled water is ideal). Plug the humidifier into your power source and turn it on.
You can use the automatic humidity control to set the level of humidity. Use the three speed settings to determine how fast or slow you want the room to be humidified.
Pros
Wick filter.
Quiet operation.
Small, attractive design.
Three speed fan settings and automatic humidity regulation.
5-year warranty.
Cons
The refilling hole is located on the bottom of the tank, which means you have to turn it upside down to fill it. Although opening and closing are easy, it can be difficult to balance the tank when it is full.
Conclusion
The Vornado Evap2 Whole Room Evaporative Humidifier will serve you well with all of its great features, including automatic humidity control, three fan speeds, a wick filter, a one-gallon tank, and a 5-year warranty.