In this review, we'll take a look at the Vornado Ultra1 Whole Room Ultrasonic Humidifier home humidifying system. If you have been looking for a two-in-one humidifier that can deliver both cool or warm mist, search no further than this Vornado Ultra1 Whole Room Ultrasonic Humidifier. The device's controls make switching between fan speeds, warn mist, and cool mist a breeze. Having this unit will save you the  cost of buying separate warm and cool mist humidifiers.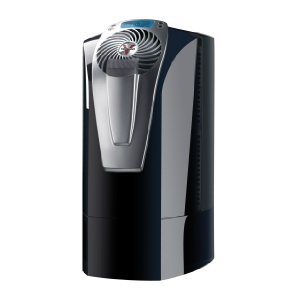 As the name implies, this device can humidify an entire room. It is designed to humidify rooms up to about 900 square feet. The Vornado Ultra1 Humidifier features a two-gallon capacity tank which can run for up to 24 hours to provide you the humidification you want. This means you don't have to refill the tank as often.
The Vornado Ultra1 Humidifier comes with controls that include an electronic, automatic humidistat. Use the LCD screen to set your desired humidity levels, then set the fan speed just the way you like it.
Features:
Warm or cool mist settings.
It has a coverage area of 900 square feet.
Two-gallon tank capacity and up to 3.5 gallons of output every 24 hours.
It comes with automatic humidity control.
Spill-proof water tank.
Two-speed control fan (low, high).
5-year limited warranty.
120 volts energy consumption.
Mineral cartridge prevents minerals and calcium buildup.
Automatic shut-off when the water level gets too low.
Push-button controls with LCD screen for easy confirmation of settings.
Pros
Whisper quiet operation.
Easy to carry from one room to another.
Cons
A little more expensive than some other options.
Designed for a whole room only.
Conclusion
The Vornado Ultra1 Humidifier is a great choice if you need a powerful humidifier for large spaces. The control settings make setting your ideal environment a breeze. Although it may be among the more expensive options, the Vornado Ultra1 comes with power and features not seen on other devices.