In this collection of Bed Bath and Beyond humidifier reviews, we are going to take you through some of the best humidifiers available today. It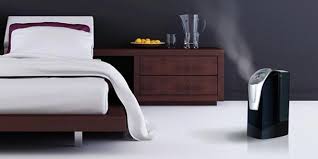 can be difficult to choose the right humidifier when shopping online. There are some basic things to understand and consider.
Pay attention to the coverage area of the humidifier. Make sure you choose one that is rated for the right room size.
You will also need to choose between an automatic humidistat or a mechanical one. With automatic settings, the machine will adjust itself to reach the proper humidity level. Manual settings require that you use a hygrometer. Cleaning and maintenance is another aspect to consider.
Choosing a filterless humidifier will help you cut back on maintenance time and filter costs.
With these considerations in mind, you'll be able to choose the right humidifier for your home.
Best Humidifier Comparison Table
Image
Description
Tank
Dimensions
Rating
Price
Vornado Evap40 4-Gallon Evaporative Humidifier


** Editor's Choice - Best Humidifier **

4 gallon
10.5 x 19.5 x 13.5 in
8.8
TaoTronics Cool Mist Humidifier


** Best Budget Humidifier **

0.6 gallon
18.5 x 19.1 x 21.5 in
8.4
Ivation Digital Humidifier w/LCD Control Panel
1.3 gallon
16.3 x 13.3 x 9.5 in
7.5
Seneo Aromatherapy Essential Oil Diffuser Ultrasonic Cool Mist Humidifier
0.03 GALLON
7 x 4 x 4 in
8.4
AIRCARE 826000 Space-Saver Evaporative Humidifier
6 gallon
17.8 x 13 x 22 in
7.1
Top Bed Bath and Beyond Humidifier Reviews:
1. Vornado Evapo40 Review
** Editor's Choice – Best Humidifier **

This evaporator will help you humidify living spaces up to 1,000 square feet. The large-room Evapo40 is ideal for those looking for a humidifier with replaceable filters and an automatic humidity control system.
Choose from three-speed settings to set the rate at which moisture is released into the air. Enjoy uninterrupted operation for up to 24 hours with its four-gallon tank.
Features
An evaporator.
Auto humidity regulation.
Three-speed moisture settings.
Four-gallon tank capacity.
Vertex circulation.
Pros
Ideal for both small and large rooms.
Automatic settings.
No installation required.
Cons
A bit more expensive.
Increased cost to replace the filter.
Conclusion
This is an evaporative humidifier that uses filters. This means you'll have to spend extra money replacing the filter regularly. Still, this humidifier is a great choice with powerful features that make it ideal for nearly any home.
2. TaoTronics Ultrasonic Air Humidifiers Review
** Best Budget Humidifier **

The TaoTronics Cool Mist Humidifier is another great choice that may help you breathe easier. It is inexpensive and comes with a long list of impressive features.
This product from TaoTronics comes with adjustable moisture controls and a 360-degree nozzle for even mist distribution. The large-capacity tank will last up to 13 hours on the lower speed, allowing you more time between refills.
Features
Sleep mode.
LED display.
Auto timer.
Five-liter reservoir.
360-degree nozzle.
Pros
Ultra-quiet operation.
Affordable price.
Easy transportation.
Cons
No auto humidity setting.
This humidifier is great for adding humidity to your home, especially in the winter months when the air is dry. Air that is properly humidified is crucial for babies and adults alike. This humidifier is equipped with robust features at a great price.
3. Ivation Digital Humidifier Review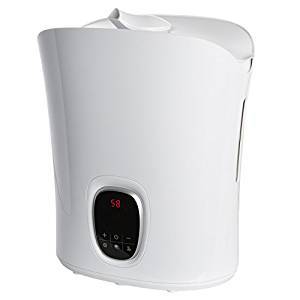 The Ivation brand is another respected humidifier manufacturer. It is ultrasonic, has cool and warm mist settings, and features a digital humidistat and display. The automatic setting helps make it easier to reach your ideal humidity level.
The warm and cool mist settings let you choose the right kind of mist every time. It can run up to 50 hours.
Features
Cool and warm mist.
Digital humidity level control.
LED nightlight.
Automatic shut-off function.
Timer settings.
Pros
Ideal for medium-sized rooms.
Determines indoor humidity level by itself.
Good price.
Choose from warm and cool mist functions.
Cons
Smaller coverage area
Uses replaceable filter.
Conclusion
This Ivation unit comes with convenient digital controls. Its automatic features help make for worry-free operation.
4. Seneo Cool Mist Ultrasonic Humidifier
This product from Seneo has impressive features to keep indoor humidity under control. It can run for up to 33 hours when used on the low setting.
With this ultrasonic humidifier, you'll be able to view your current home temperature and humidity levels on the digital screen. The intelligent humidity control senses your current humidity level and automatically adjusts operation to meet your settings.
Features
Weak and strong levels of moisture delivery.
Nine timer settings.
Intelligent humidity regulation.
Three-gallon tank capacity.
Pros
Aromatherapy essential oil diffuser.
Recommended for people with certain nasal issues.
Digital display function.
Room humidity level sensor.
Ideal for whole house or office usage.
Cons
Conclusion
The Seneo Cool Mist is a great option if you need a humidifier that is also an essential oil diffuser. It has plenty of great features that set it apart from the competition.
5. AIRCARE 826000 Review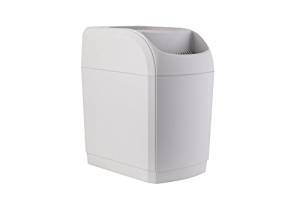 The AIRCARE 826000 Humidifier helps control allergens in the air. The machine is a space-saving, standalone unit that you can put nearly any place in your home.
This item uses a filter, which means you'll have to replace it. However, it also has antimicrobial properties that help prevent bacteria from growing in the water tank.
It operates very quietly, making it an ideal choice for a bedroom with children.
Features
Adjustable moisture control.
Analog control.
Uses filter.
Antimicrobial protection.
Pros
Space saving.
Ideal for both home and office use.
Cons
It is a bit expensive.
Added cost of replacing the filter.
Final words
The AIRCARE is small and efficient. It uses analog controls, which is good for those who are not used to using digital settings. It requires no installation cost and is easy to set up.
Conclusion
A humidifier can help restore the humidity in your home during winter months. Hopefully, this guide has given you the information you need to make an informed decision when choosing a humidifier.
As you can see, each of these items has a different set of features, pros, and cons.
Remember that humidifiers that use filters come with the added cost of having to replace them. Those with automatic settings provide flexible options over some of the analog choices.
Ultimately, your own needs dictate the sort of features that you need. Weigh your options, choose the right humidifier, and start enjoying the benefits of properly-humidified air!