Humidifiers perform an important function in your home. They can help you restore humidity to appropriate levels and can help make your home more comfortable.
A humidifier can help correct dry air in your home. Many whole house and furnace humidifiers are installed in your HVAC system. Other models have a standalone design and humidify smaller areas.
Whole-house humidifiers are mounted in your duct system and have added installation costs. Many people can benefit from the lower costs associated with standalone humidifiers.
Here, we give you our list of the ten best large room humidifiers.
1. AIRCARE SS390DWHT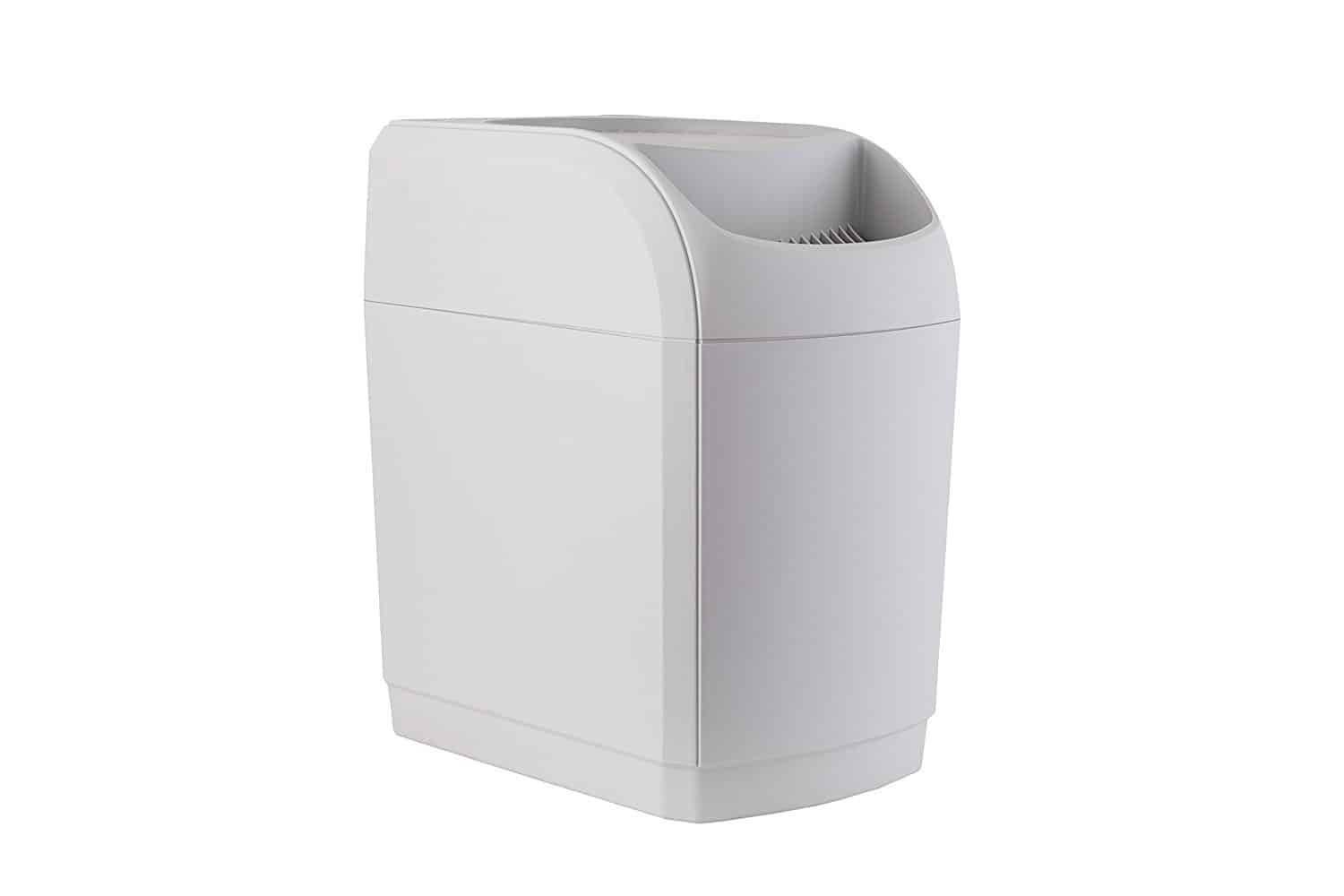 Dry air is uncomfortable and can be a real problem, especially during the winter months. Proper humidity levels offer many benefits.  The SS390DWHT from AIRCARE is a great option to help correct low humidity.
This unit is an evaporative system that adds invisible mist to the air. The standalone product has a space-saving design and is meant to be placed on the floor. It comes with great features and is available at an affordable price.
Features
Coverage area up to 2,300 square feet.
Six gallon water capacity.
Convenient digital controls.
Up to 70-hour extended run time.
Three speed fan control.
Automatic shut-off and tank refill indicators.
Easy, top-loading refills.
ETL approved.
Built in United States.
Pros
This humidifier has a large tank and can run for long periods of time. It is ideal for large bedrooms or small homes. With this machine, you can restore proper humidity levels. It has fan-speed and humidity level controls.
Cons
It does not come with caster wheels. Some users complain the plastic feels fragile.
2. AIRCARE 831000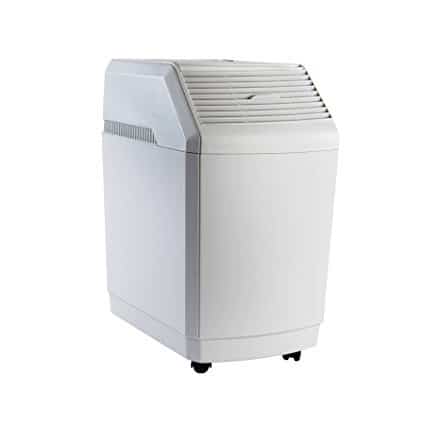 The AIRCARE 831000 is another option to help battle dry air during winter months. The 831000 is space saving and has caster wheels for easy mobility.
This product eliminates worries about installation costs. Using the digital controls makes operation a breeze. Here are some of its notable features.
Works in areas up to 2,700 square feet.
Digital controls with automatic humidity adjustment.
Auto shut-off function.
Six gallon water reservoir lasts up to three days.
Trapmax filter system technology has antimicrobial protections.
Filter check and water refill indicator.
Easy to refill.
Pros
Inexpensive with great features.
Antimicrobial protection helps kill germs.
Digital controls.
Also useful for small rooms.
Cons
Plastic design can break easily.
Replacing the filter adds to the cost of maintenance.
3. HoMedics UHE-WM85 Warm and Cool Mist Ultrasonic Humidifier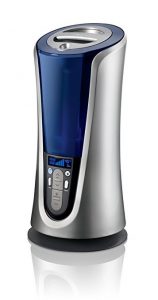 This offering from HoMedics is another great choice if you need to humidify a large room. The HoMedics UHE-WM85 comes with amazing features at a reasonable price. Check out some of its top features:
1.4 gallon tank lasts up to two days.
Empty tank protection function.
Programmable humidistat for humidity control.
Night light to keep the room visible.
De-mineralization cartridge included.
Micro-fine mist with cool and warm mist options.
Anti-microbial technology helps prevent mold growth.
Pros
Variable timer settings
Eliminates need for hygrometer.
Optional cool or warm mist setting.
Filter-free design saves on cost.
Cons
The tank is very thin and tall, making it difficult to balance in some sinks and making refills difficult. The light is bit bright and can create too much light at night.
4. Vornado Evap40 4-Gallon Evaporative Humidifier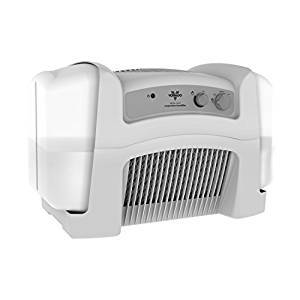 This Vornado Whole-Room Humidifier can handle adding humidity to a large room. The Evap40 is an evaporative system. Evaporative humidifiers pull the air into the system, blow it through a moistened wick filter, and then release it back into the room.
You can count on the Vornado Evap40 to help restore proper humidity levels. Here are some of its best features:
Features
Works in rooms up to 100 square feet.
Automatic humidity control.
Uses filters.
Three speed settings.
Signature Vortex technology circulates the air throughout the room.
4-gallon tank capacity.
Easy to refill.
Assembled in the United States.
Five-year limited warranty.
Bottom line
It comes with easy-to-use controls to help restore proper humidity levels. It has an extra large tank for longer operation. Remember, you will have to replace the filters if you choose to buy this item.
5. AIRCARE D46 720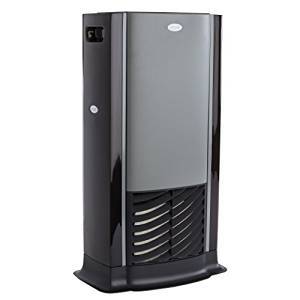 Another evaporative humidifier is the D46 720 model from AIRCARE. Its elegant design will complement the decor in any room.
Features
Easy-to-use digital controls.
Two-button controls.
Automatic humidistat.
Four fan speed settings.
Uses filters.
Auto shut-off.
Two-gallon water capacity.
Control lock for unit safety.
Water refill indicator
50 hours of extended running time.
Two-year product warranty.
ETL approved.
Pros
Great value.
Robust features and digital controls.
Adjustable humidity levels.
Tank refill and filter replacement indicators.
Cons
Buying filters raises the cost of owning this unit.
High fan speeds can create noise.
6. Bionaire Warm and Cool Mist Ultrasonic Humidifier

Bionaire is another household name among humidifier manufacturers. Their products come with great features and are made to have a long lifetime.
The BUL9500B-U is designed to humidify large or medium rooms. It features a two-gallon water tank.   This product can help restore low humidity levels during winter months and help make your home feel more comfortable.
This offering from Bionaire can produce either warm or cool mist. It is a large room, ultrasonic humidifier. Its digital controls help regulate humidity levels automatically. The cool mist released by the Bionaire can help alleviate flu symptoms. The warm mist can help you feel a little warmer during the cold winter months.
Features

Digital control.
Filter-free operation.
Antimicrobial protection.
Heat and lamp button.
Three humidity level settings.
Two-gallon water tank capacity.
Ideal for use in large rooms.
De-mineralizing cartridge.
Designed with top-level nozzle for better moisture distribution.
Includes brush to clean the transducer.
Pros
Slim design for easy transport.
Variable humidity settings.
Easy-to-refill tank.
No need to buy filters; uses a de-mineralized cartridge.
Cons
This humidifier does not have automatic settings, auto shut-off, or water refill indicators.
Tank can be difficult to clean.
7. BONECO Warm or Cool Mist Ultrasonic Humidifier U700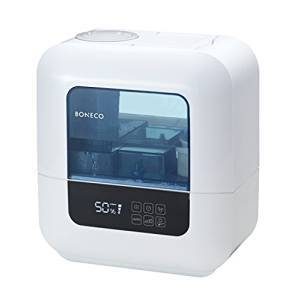 Most experts agree that humidity levels should be between 30 and 60 percent. The Benoco Ultrasonic Humidifier can help you restore humidity to this recommended level. It has settings that allow you to choose between warm and cool mist.
With a four gallon tank, the Beneco U700 can run for up to 24 hours and humidify rooms up to 1,000 square feet. Operation is simple. The automatic shut-off function turns the device off when water levels are low.
It features an LED night light and a fragrance tray. It features a CLEANING MOOD for automatic self-cleaning. This feature helps keep the unit clean and reduces maintenance time.
Features
Digital display.
Dual jet nozzle mist distribution.
Fragrance tray for essential oils.
Large water tank lasts longer.
Automatic shut-off.
Coverage area up to 1,000 square feet.
Four-gallon tank lasts all day.
LED night light.
Multi-function display with cleaning and refill reminders.
Innovative Cleaning Mode helps keep the unit clean.
Pros
This self-cleaning humidifier is a fully automated machine that offers easy operation. Take advantage of the programmable hygrometer, two speed levels, and the reduced-noise sleep mode. The LED light can be turned on and off. Refilling the tank is easy. This humidifier uses a de-mineralized cartridge.
Cons
This option is a little more expensive. The advanced features can be off-putting to inexperienced users.
8. BONECO Warm or Cool Mist Ultrasonic Humidifier 7135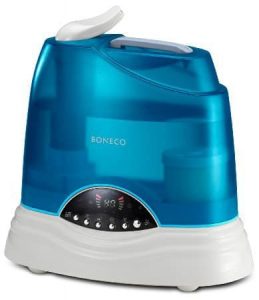 If you need a programmable unit with a hygrostat, look no further than the 7135 model from Beneco. This unit delivers both warm and cool moisture to help relieve dry skin, sinusitis, allergies, and asthma symptoms.
This large-room ultrasonic humidifier is ideal for spaces up to 650 square feet. It operates quietly. Here are some of its best features:
Large, 3.5-liter water tank.
Cool and warm mist settings.
Fully automatic control.
Digital display screen.
Built-in hygrostat auto-regulates humidity levels.
Quiet operation.
Bottom line
It provides both cool and warm mist, eliminating the need to buy separate units.
The programmable, built-in hygrometer helps to automatically set the humidity level.
The digital control system allows for ease of use.
This item is a little more expensive than some other units and may not be a good choice for those on a tight budget.
9. Opolar 3.8L Ultrasonic Humidifier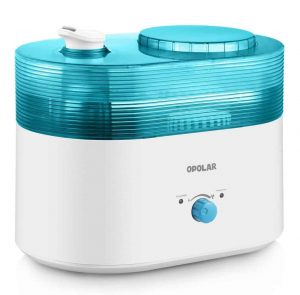 Another great option is this 3.8L ultrasonic humidifier from Opolar. It is easy to clean and refill, making it a great choice for those who don't want to tamper with a lot of different settings.
The top-opening tank allows for easy refilling and does not need to be removed when being filled. Cleaning this Opolar Ultrasonic Humidifier is a breeze. It features a wide opening with plenty of room to clean it thoroughly.
The humidifier uses a filter to help trap allergens in your air. Here are its best features.
Top-filling tank is easy to clean.
Two filters for cleaner air.
Works in ares up to 400 square feet.
3.8-liter capacity lasts up to 24 hours.
Can be used with essential oils.
Intelligent reminder lights alert you when it's time to refill the tank or clean the unit.
Bottom line
This whole-room Opolar Humidifier is one of the only products on this list that is made to work with essential oils, allowing you to add a pleasant aroma as you humidify. It has a space-saving design, easy-to-use features, and is a great value for the price.
10. SereneLife PSLHUM80 Ultrasonic Humidifier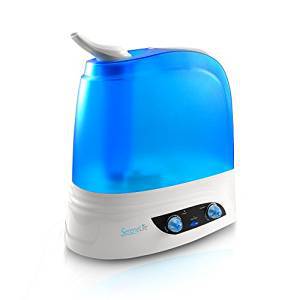 Using a humidifier during winter months can be crucial to restore proper humidity levels. This offering from SereneLife is one of the best options on the market.
Its compact size also makes it a great product for office use.  It features easy operation and has warm and cool mist settings. Refilling is easy; just remove the water tank, unscrew the cover, and fill it with water.
The simple design requires less cleaning. It comes with an easy-to-use control knob to adjust vapor flow. Here are some of the best features of the PSLHUM80 Ultrasonic Humidifier:
LED indicator light.
Both warm and cool mist.
Smooth, quiet operation.
Coverage area up to 430 square feet.
Button control operation.
Pros
Moisture and energy efficient.
Large water tank capacity.
Two mist settings.
LED nightlight.
Easy maintenance.
Quiet operation.
Cons
No automatic humidistat.
Not a digital system.
If you are looking to add humidity to your home or office, this product from Serenelife is a great choice!
Conclusion
With all of the options available to you, choosing the right humidifier can be difficult. All the humidifiers on this list are some of the most popular.
To pick the right one, find the humidifier that has all the features you need. Remember, those with automatic features can make the operation more simple and help bring you peace of mind.
If you buy a humidifier with filters, you should remember you'll have to pay the added cost of replacing them. Still, filters offer great benefits not found in other units.
You must remember to keep your humidifier clean in order to prevent it from spreading mold and mildew. Most people recommend using distilled water to help reduce airborne allergens.