In this post, we are going to look at the top three best humidifiers on the market. Although there are lots of great machines available, we've selected some of our favorite ones for this list. This post has items from three brands: Boneco, Holmes, and Sunpentown. We put this list together to help you understand the differences between all three of them. By the end, you should be able to make an informed decision about which humidifier is the best for you.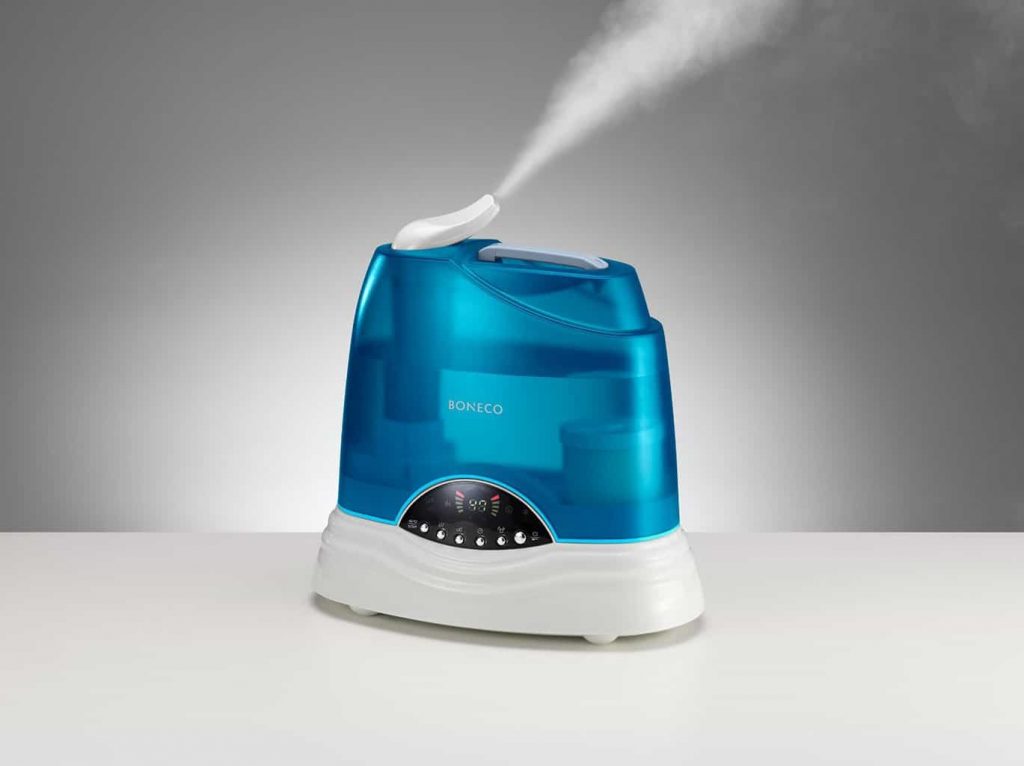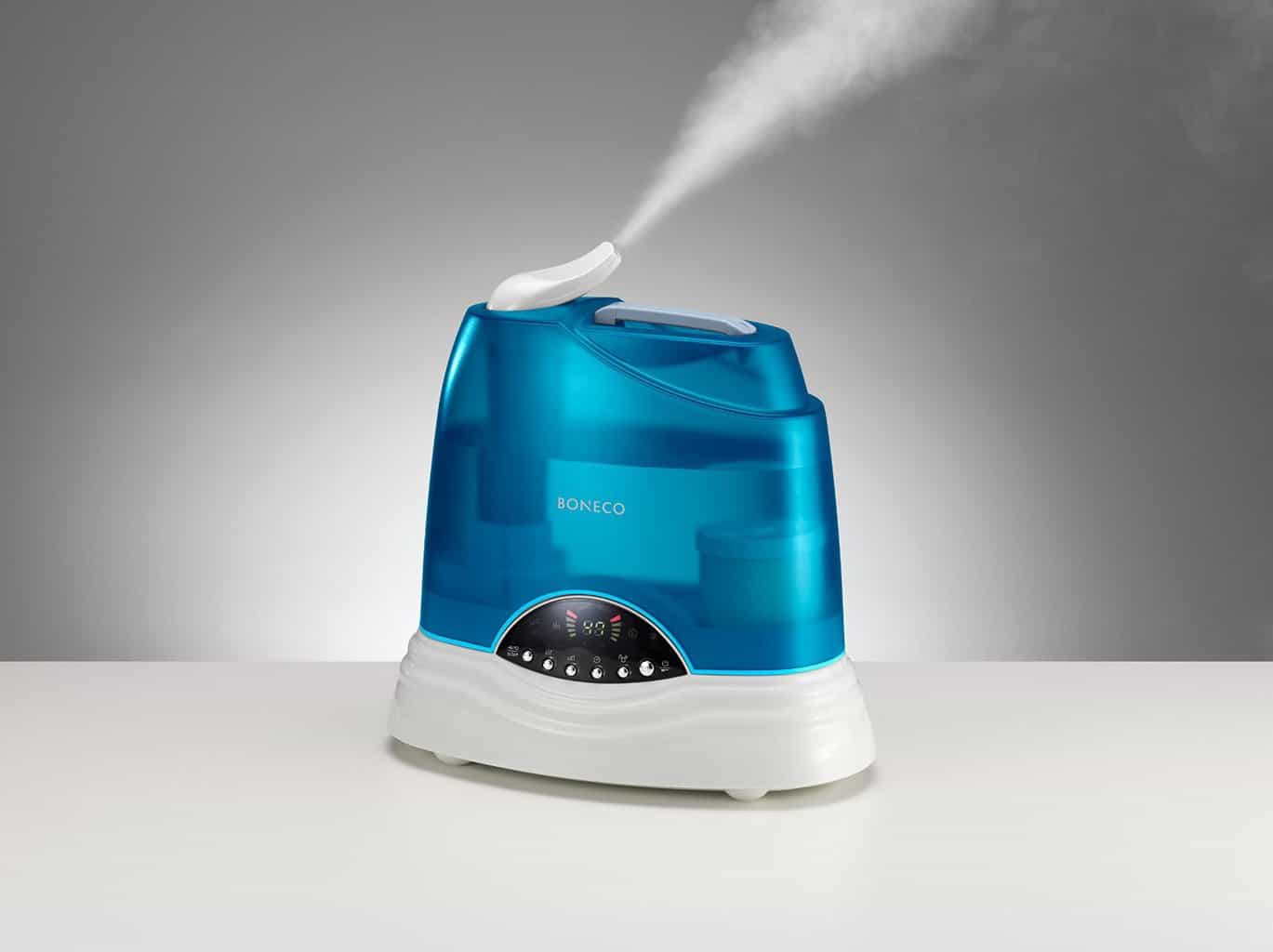 Adding humidity to the home is beneficial, but choosing the right machine from so many options can feel overwhelming. As much we'd love to buy everything we want, we must instead make educated decisions and buy only the best products. The only way to get a strong grasp on which is the best for you is to carefully consider the features of each unit. Before buying a humidifier, check the coverage area, filter use, and automatic features. For more information on choosing the right humidifier, check out our humidifier guidelines.
Top 3 Selected Best Humidifier on the Market Reviews:
1. BONECO Warm or Cool Mist Ultrasonic Humidifier 7135 Review
This unit is more expensive, but it comes with a long list of robust features. This Boneco helps moisturize and clean air you breathe. It helps reduce bacteria and airborne infections. It's small in size but has a water tank that holds up to 3.5 gallons. It can run for up to 24 hours and has a humidifying area of about 600 square feet. It produces both warm and cool mist, depending on whatever your current needs are. With this ultrasonic humidifier, you won't need a hygrometer to measure the humidity levels in your home; it comes with a built-in, automatic humidistat.
It features a digital display. It's free of filters to wash, instead using a dematerialized cartridge that helps trap minerals. When the cartridge is properly taken care of, it should be replaced after three months. It also comes with a hydro cell that uses activated carbon to help trap bacteria in the air. To maintain the highest quality of water, replace the hydro cell every month. At night, the Boneco Cool Mist Ultrasonic Humidifier's Whisper Mode will keep it operating quietly. This machine will be a great fit for your baby room as well. The Boneco Cool or Warm Mist is one of the most popular humidifiers on the market.
Features
Coverage area up to 650 square feet.
Uses dematerialized cartridge and hydro cell.
Digital display.
Built-in hygrostat.
Cool or warm options.
Pros
Automatic humidity control hygrometer.
Good for large room humidification.
Silent mode operation.
Cons
Final words
The 7135 is portable, lightweight, sturdy, works silently, and works well. It is ideal for either medium or large room sizes. Cleaning and maintenance are easy and aided by its digital tools. The tank is easy to refill. Remember, the cartridge should be changed every three months.
2. SPT SU-4010 Ultrasonic Dual-Mist Warm/Cool Humidifier  Review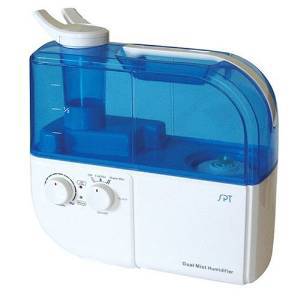 The SPT SU-4010 is another great machine. It can reliably help relieve dry skin, dry nose, dry throat, and cracked lips. It uses an ion filter. Just like the Boneco 7135, the 4010 SPT also allows you to choose between cool or warm mist. It functions in areas up to 500 square feet. It comes with two split nozzles for wider mist distribution. The handle makes it easy to carry. Using the controls is a breeze. With the translucent tank, you can easily see how much water is left in the machine. The ion exchange filter helps keep your home free of bacteria and other undesirable particles. The machine also demineralizes and treats the water to remove magnesium and calcium from hard water.
Features
Both warm and cool mist.
Ion exchange filters.
Bi-directional nozzles.
Fan.
Coverage area up to 500 square feet.
Pros
No filters to replace.
Easy-to-carry handles.
Two mist nozzles for wider coverage.
Cons
Some customers complain about it leaking water.
Switching from warm mist to cool mist takes a while.
Final say
In comparison with the Boneco, the SPT SU-4010 is less expensive, has a dual mist outlet, and handles to facilitate easy mobility. However, the SPT SU-4010 Ultrasonic Dual-Mist is not a digital machine. Instead, it uses knobs that are easy to operate. In short, this is a powerful, inexpensive humidifier that won't let you down.
3. Holmes Ultrasonic Filter-Free Humidifier, HM2610-TUM Review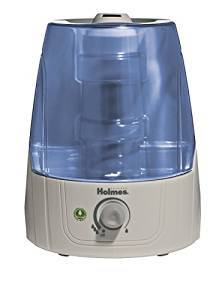 The HM2610 Holmes Ultrasonic humidifier is the third item on our list of the best humidifiers on the market. This does not mean it is the least performing machine. For people who need to humidify small or medium rooms, this is a great choice. You can place the HM2610-TUM on your tabletop directly in the center of the room to enjoy mist throughout the room.  The Cool Mist Unit has no filter, eliminating the need to buy and replace them. It features a large tank that holds up to 1.2 gallons of water and will last as long as 24 hours. With its rotating nozzle, you will enjoy a circulating, cool mist all over the room. The empty tank indicator will let you know when the water level is low.
Features
Variable mist options.
1.2-gallon water tank capacity.
Rotating nozzle.
No filter.
Runs for up to 24 hours.
Has antimicrobial protection.
Pros
Lightweight for convenient mobility.
Circulating mist.
No filter to use or change.
Little-or-no bacteria and mold buildup in the tank.
Cons
Only works well in small or medium rooms.
Final thought
This is the least expensive item on this list.It has a good amount of features. It requires little maintenance and has no filters to replace. To sum up, this offering from Holmes has great features without a large price tag.
Conclusion
So far, we have gone through the reviews of three of the most popular humidifiers available today. Each of the products' descriptions, advantages, and disadvantages were examined. They all come in a range of different prices and with different features. Consider the reviews, remember your needs, weigh the pros and cons, and choose the one that's best for you.