One of the best humidifiers on the market with UV technology is the Honeywell Cool Moisture Humidifier. This machine is also one of the best humidifiers to help relieve symptoms of nasal congestion. The manufacturer boasts that the item is a germ-free unit. If you need a humidifier with UV technology that can help relieve nose congestion, allergies, and asthma symptoms, this is a great choice for you.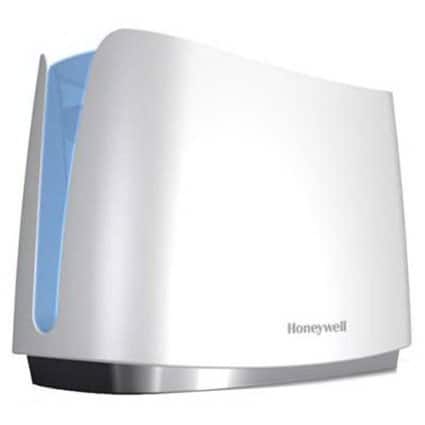 Nearly all of the customer reviews for this product are positive.  It comes with an ultraviolet technology that helps kill up to 99.9 percent of mold, bacteria, viruses, and fungi that live in the water. This cool mist humidifier is a great choice for large rooms or even in your baby's room. One amazing thing about this Honeywell Humidifier is that it automatically adjusts mist production according to your room's moisture levels.
Features
QuietCare technology.
Three speed settings.
Wick filter.
Provides moisture that relieves dry air.
24-hour run time per filling.
Pros:
Quietcare Technology works more quietly than other humidifiers.
Has a one-gallon water tank capacity and can last up to 24 hours.
Doesn't change the temperature of the room.
The tank is easy to use and clean and is dishwasher safe.
No water buildup around the base of the unit or anywhere else.
Helps relieve dry skin, scratchy throat, and sinus problems.
You can rely on the cool mist to help protect your home's plants and furniture.
Cons:
A bit large.
Ideal for small- and medium-sized rooms.
It uses filters, so you will incur the extra cost of purchasing filters.
When not in regular use, the filter must be removed.
In summary, this ultraviolet germ-free humidifier is the best for home use. It is also safe for kids and doesn't use much energy, which will help save you money.