Because of the sheer number of cool mist humidifiers in the market today, consumers find it hard to decide which one is the best for them. This TaoTronics Ultrasonic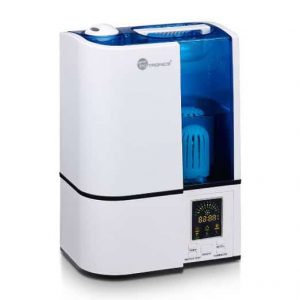 Humidifier Cool Mist is one of the most popular products. Although we can't say that it is the BEST product, it is highly-rated among users and offers excellent performance. Coupled with our research on this unit, we think that this is a great choice for your home.
This TaoTronics Cool Mist is not meant for adults only. If you have a newborn, he or she will appreciate the quality indoor air.
Working Principle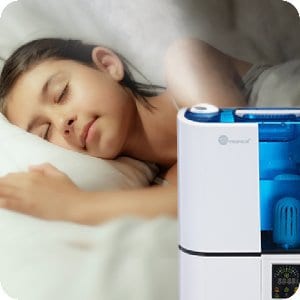 This unit emits cool, moist air, helping eliminate dry air in your home. With its micro-porous ceramic cartridge, the TaoTronics Ultrasonic Humidifier Cool Mist filters the water to get rid of any magnesium, calcium, and micro-organisms.
While some humidifiers are difficult to clean and maintain, this TaoTronics model offers an easy cleaning process. The filters have long lives that help lengthen the time between changes. The unit is great for use in dry climates, especially during winter months. It is also well-suited in an air-conditioned room.
It is equipped with a ceramics filter that offers clean and eco-friendly moist air that is desirable for both children and adults.
In order to help clean your unit, this product comes with a cleaning brush. It makes cleaning and maintenance a breeze.
TaoTronics Ultrasonic Humidifier Cool Mist Features
Micro-porous cartridge filters water, thoroughly removing calcium, magnesium ions, and other particles to ensure the finest air for babies.
Adjust the humidity level as you desire.
Adjust mist modes; use the 360-degree nozzle to control the direction of the mist.
One-gallon water tank capacity lasts for up to 25 hours of use.
Timer feature shuts the device off after a set period of time.
LED display shows the current humidity level and other settings.
Two handles at the top and bottom make it easy to refill the tank.
Pros

Provides cool mist air that encourages babies to sleep soundly.
Portable, lightweight, and mountable on nearly any surface.
Different modes give you greater control.
Quiet operation.
Easy to use.
Cons

Does not come with filter
Conclusion
Our review of the TaoTronics Ultrasonic Humidifier Cool Mist presents the most important information and features about the unit. With all of its features, we believe that this product may serve to benefit your family's health, especially your children.