Are you thinking of getting a whole-house console humidifier installed in your home? Many people have questions about portable and console humidifiers. Both units are considered to be portable.
While the portable humidifier is ideal for single-room usage, the console can also serve the same purpose. However, console humidifiers are bigger in size. Some of them come with caster wheels to facilitate easy moving due to their bulky design. The portable units are effective at bringing moisture into a single room. Console humidifiers can be used to humidify an entire house.
Even though console humidifiers are whole-house systems, they cannot be installed into your HVAC system. Instead, they work on their own as standalone humidifiers, no installation cost required. A console whole-house humidifier delivers mist faster than the portable ones, but come with a higher price tag. We have selected some of the best console humidifiers here for comparison.
Top 5 Best Whole-House Humidifier Reviews
1. AIRCARE H12-300HB Review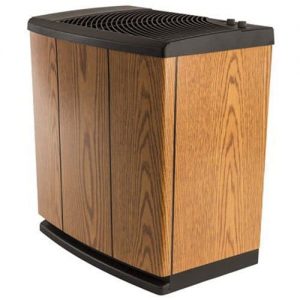 To enjoy a comfortable mist in your home, consider the AIRCARE H12-300HB whole-house console humidifier. This humidifier is ideal for areas up to 3,600 square feet. It has an easy-to-refill 5.4 gallon water tank, and can use up to 11 gallons of water in 45 hours.
Operating and cleaning this unit is a breeze. The caster wheels allow for easy transportation.
Features
Four-speed moisture control system.
Up to 3,700 square foot humidification area.
Digital screen display shows humidity levels.
Uses super wick filters to trap airborne allergens.
Runs up to two days before needing a refill.
Filter check and refill indicator.
Automatic humidity level setting to balance room moisture.
This console humidifier can do the job perfectly. However, some users report that the tank size is smaller than the manufacturer indicates. It can produce loud noise when using higher fan settings.
2. Essick Air 4D7 300 Whole-House Review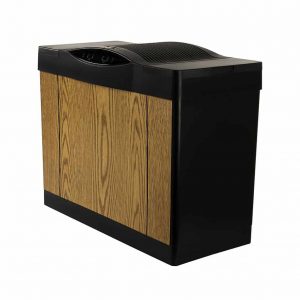 During winter, when indoor air is colder and drier, breathing can be difficult and you may find yourself with dry or itchy skin. Using a console humidifier such as the Essick Air 4D7 300 can help eliminate dry indoor air.
This is a great choice for those living in homes up to 2,700 square feet. It comes with a high-end wick filtration system to help clean your indoor air. Its variable speed settings give you control over the unit's output.
Filling the tank on the Essick Air is easy. It comes with two water bottles and a refill digital display that tells you when the water level is low.
Features
This machine releases up to 13 gallons of water daily.
Ideal for spaces of up to 2,700 square feet.
Quality filters trap agents that can be harmful to your health.
It is equipped with two bottles and a hose to make refills a breeze.
Automatic shut-off when the water level is low.
Backed by a two-year product warranty.
The unit won't produce much noise when on low-speed settings. This makes it a nice humidifier for overnight hours. You can rely on it to provide a high quantity of humidity within minutes. However, it's a bit expensive and bulky.
That said, this humidifier comes with great features that make it a fantastic option for nearly any home.
3. AIRCARE 4DTS 300 Review
Another console humidifier to consider is the 4DTS 300 AIRCARE from the Essick Air brand. It functions in homes up to 3,600 square feet. Unlike some other options, it features up to nine different fan settings.
The touchscreen makes operating the 300 AIRCARE a breeze. Just like the AIRCARE H12-300HB model, the 4DTS 300 comes with a 5.7-gallon tank to deliver mist that can last for up to 48 hours.
With this machine, you don't need to adjust the humidity level manually. Instead, the variable speed humidifier automatically determines indoor humidity and adjusts itself for balanced moisture output.
Features
48 hour run time.
Nine-speed control settings.
Digital touch screen.
5.7-gallon water tank.
Built-in hygrometer.
Self-regulating humidity control function.
Automatic shut-off when the desired humidity level is achieved.
Caster wheels for easy transport.
Among the whole-house console humidifiers discussed so far, this is the only unit that has a built-in hygrometer. It can determine the level of humidity present in the air so that the humidifier can adjust itself to help reach your settings. In addition, the touchscreen makes operation easy. Since this humidifier uses filters, you will have to spend money and time changing them.
4. Holmes HM3501-U Console Humidifier Review

The next unit is the HM3501-U model from the well-known manufacturer Holmes. This brand has been a staple in the industry for years and consistently receives great customer reviews.
The Holmes Whole-House Humidifier is able to release cool mist in areas up to 2,000 square feet.
It comes with a filter that has antimicrobial protection to help prevent the growth of mold and bacteria in the tank. It is equipped with wheels that must be installed but allow for easy transportation.
Features
Manual humidity settings.
Runs up to 24 hours.
Antimicrobial protection treated filter.
Float valve indicates water level.
Six-year limited warranty.
This model does not feature a digital display. It has no automatic humidity control or shut-off function. It must be refilled at least every 24 hours while it's running. Minor issues aside, this is a great choice for any home.
 5. Bionaire Whole-H Console Humidifier Review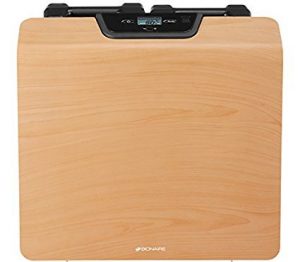 The Bionaire Console Humidifier is another whole-house humidifier that can be used in your home or office. It's easy to use and features a simple design. The long-lasting filter only needs to be replaced every three or four months.
With three digital comfort settings, you can set the speed at which you want humidity to be released into the air.
Features
24 hours of humidity distribution.
Digital control and three-speed settings.
Lasting filter included.
Adjustable humidistat.
Lightweight and easy to carry.
Easy refill process.
Quiet operation.
Conclusion
Console whole-house humidifiers are a portable type of humidifier that can be used to humidify a whole house or large room. They are bulky but usually come with caster wheels to facilitate easy movement.
From the list of items analyzed here, we hope you can make an educated decision.
You can also learn how a humidifier works to help alleviate dry skin, lips, and more.