The Vornado HU1-0021-28 Whole Room Evaporative Humidifier offers unique features and great performance. While there are many models competing amongst the  best whole house humidifiers on the market, this Vornado humidifier is always at the top of the list among competing rival models. Not only will the humidifier serve your for years, but it also comes at a price that won't break your budget.
All of the members of your household may suffer from the dry air of the winter months. Dry skin, dry throat, sneezing, coughing and a host of other ailments can all be caused by a lack of humidity in the air. The good news is that the HU1-0021-28 Whole Room Evaporative Humidifier helps you take back control over the humidity in your home.
Review details
Getting the required humidity in your home with this evaporative humidifier will cost you next to nothing once you've bought it. It's an efficient and low maintenance air humidifying system. This humidifier is great at restoring humidity levels while eliminating bacteria in the air. The Vornado Whole Room Humidifier is the only unit that combines the proven dependability of an evaporative moisturizer with the Vornado's signature Whole Room Circulation. These unique features make the device the perfect choice for your home.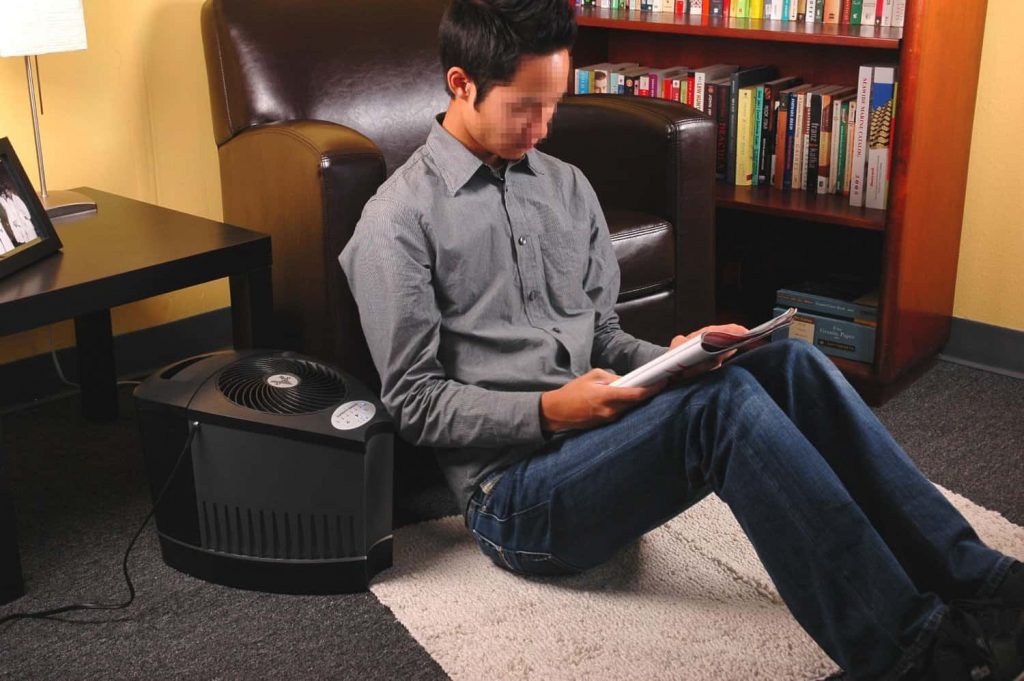 The Vornado deep pitch blade circulator pulls the harsh, dry the air into the air humidifier. Then, it pushes the moistened air mist out into the room, offering the perfect level of humidity at any time. The Vornado air moistening system also recovers and spreads heat to help maintain consistent comfortable temperatures.
The easy-to-use button panel lets you control the fan speed and humidity levels. The device is quiet and features a 1.8-gallon tank that helps eliminate the need to refill the device frequently.
Why should you invest in the Vornado HU1-0021-28?
The HU1-0021-28 stands out above the competition in efficiency and air circulation. The low maintenance costs and powerful control system make it a great choice for any household.