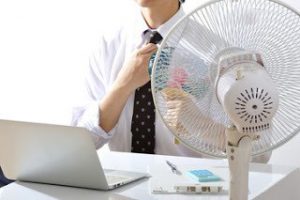 Looking for the best air circulator is not as difficult as you might think. Air circulators are also known as fans.
They are useful home appliances that help remove the hot air from your home while circulating the cool air within it. In this guide, we'll be going through our reviews and guides to help you find the best air circulators in the market.
Air Circulator: Features To Consider Before Buying
Before you purchase an air circulator, there are basic qualities to consider when choosing the best air circulating machine. Here are the major considerations for picking the best circulator:
Good airflow performance: The amount of air the machine moves per minute should be equivalent to your room size and provide a good amount of airflow that cools you down.
Ease of use: Some circulators have convenient features like timers and remote controls to help make operation even easier.
Minimum noise level: Many people don't like noisy air circulators that interfere with their conversations or activities. Instead, they prefer quiet ones. Some users like circulators that are louder to create a bit of white noise in their bedroom.
Sturdy design: Search for an air circulator with solid design and good repair statistics.
Safety features: Some manufacturers, like Dyson, offer blade-free fans to help keep your kids and pets safe. If you want a traditional fan, make sure the blades are enclosed inside the grate. Also, the fan should not overheat after working all day. It should also allow for easy carriage.
Clean-ability: Fans without blades offer easy cleaning. Cleaning a fan with blades and a grate can be trickier. Be sure your fan can be cleaned with ease.
Good look: Fans that are unsightly and have to be hidden from visitors cannot do their work.
Warranty: Some air circulators come with warranties for up to five years.
Here are Top 5 Rated Best Air Circulator Reviews:
1. Vornado 630 Mid-Size Whole Room Air Circulator Review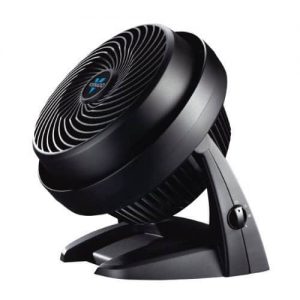 For those in need of a mid-size, whole-room circulator, the Vanordo 630 is the right unit for the job. The 630 is made to a superior standard and features deep, pitched blades that can circulate air evenly up to 70 feet.
It also provides you with a multi-directional movement of air flow to cool you down during the hotter months. Many other Vanordo models are available on the market, but this cheap 630 has remarkable features that make it an outstanding fan for anyone.
Features
Multi-directional air flow.
Mid-size whole room air circulator.
Deep-pitched blades.
Signature grill.
Pros
Affordable price for average income earner.
Blades protections grill for kids and pets.
Works quietly.
Easy to clean by just dusting it.
Sturdy and durable.
2. Vornado 293 Heavy-Duty Shop Fan Air Circulator Review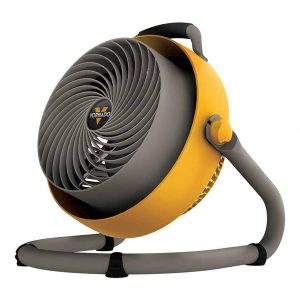 Are you looking for a heavy-duty cooling fan? The Vornado 293 air circulator machine is a great choice. It has a sturdy design and is made of durable materials that will serve you for years.  The material also is dust resistant, which will save you the stress of frequent cleaning and maintenance.
The 293 air circulator will help to get rid of heat in a room of up to 100 feet. It provides complete air circulation and movement of air in the atmosphere. Its ball-bearing motor does not require oil, which most of its competitor's models need.
The 293 heavy duty air fan has three-speed settings, plus a multiple air-flow direction for your convenience. This item also comes with a wall bracket that offers above-ground placement.
Features
100 feet air-flow area.
10 foot grounded power cord.
3 speed fan settings and multidirectional circulation.
Pros
It is durable.
Ball bearings that need no oil.
Passes OSHA safety requirements.
All parts assembled in the USA.
5-year warranty.
The heavy-duty air fan is a perfect choice for a workshop, garage or basement. You can adjust the circulator in any direction as desired. Select from variable speeds such as 950, 1200, or 1550 revolutions per minute.
3.Vornado 660 Whole Room Air Circulator Review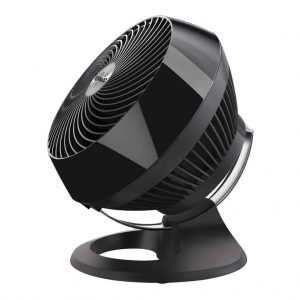 Another great air circulator is the 660 model from the Vornado brand. This one is more powerful compared to the 630 model. It can move air in a whole room, up to 100 feet.
The stylish design is great for modern environment settings. Its pitch blades provide air circulation. The chrome glide feature is responsible for the full control of airflow, helping to keep your home cool and comfortable.
Features
Signature vortex.
100-foot air flow.
Deep pitch blades.
Chrome glide for air direction.
Pros
Covers the whole room, up to 100 feet.
Long lasting and minimum creation.
Blades protector.
Cons
The white color might require frequent cleaning.
The 660 unit is one of the best cooling fans and can help beat the heat in any room.
4. Vornado 783 Full-Size Whole Room Air Circulator, Adjustable Height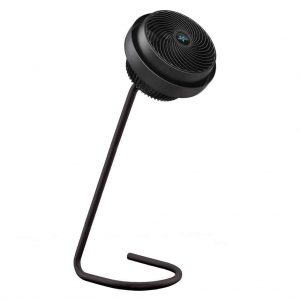 If you are in the market for an adjustable fan, consider the Vornado 783.  The height can be easily adjusted from 28 inches to 40 inches. Use the adjustable head to move the air flow in any direction.
The whole room air circulator uses signature vortex action. It can keep the air flowing in rooms up to 100 feet. With three different fan speeds, the 783 full-sized room air fan is easy to operate and maintain.
Features
Blows air up to 100 feet.
Vortex circulation.
Multi-directional airflow.
3-speed control.
5 Year Warranty.
Pros
Easy to clean.
Runs quietly.
Adjustable height and airflow direction.
The Vornado 783 is a great fan to help you stay cool. The 783 is the optimal choice for those seeking the convenience of an adjustable fan at an affordable price.
5. Vornado 733 Full-Size Whole Room Air Circulator Review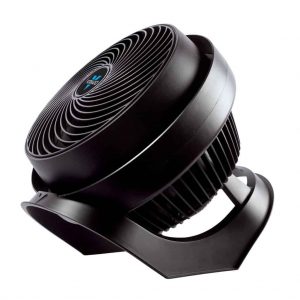 The 733 is another remarkable full room air circulator that blows like an air conditioner. Use it in a large room to efficiently provide full air circulation via its signature vortex technology. Most Vornado fans come with its signature deep-pitched blade technology that is powerful enough to move air within in large spaces. Like its other products, this offering from Vornado offers superior control over air direction and flow. This unit is designed with a durable plastic case and sturdy base for added stability.
Features of the 733
Signature vortex circulation.
3-speed operation.
Multi-directional air-flow.
5 Year Warranty.
Pros
Removable grill that allows for easier cleaning.
Ideal for large room coverage.
Different speed settings.
The Vornado 733 is a great option to keep a warm room cool on any budget.
Conclusion
You are now familiar with some of the best options from Vornado. Certainly, you need a fan to keep you cool that doesn't break your budget. Now that you understand a little bit about the different features, you can choose the right fan that meets your needs. Weigh your options and choose the ideal fan!