Pets are great to have at home but as huge allergy triggers, their mere presence can have your family wheezing, sneezing, and trying not scratch their red, itchy eyes. Breathing in the same air that has been in contact with your furry friends – and their urine, saliva, and dander – can trigger an allergy attack. Imagine how much worse it can be if your cat or dog loves cuddling up to you. Does this mean you have to kick them out? Definitely not.
Enjoy the company of your furry friends while protecting your family's health by investing in a good air purifier. Air purifying machines successfully reduce the symptoms of allergies in just a few days upon installation. These devices do so by cleaning the air so you can have a healthier and happier home.  Here are our picks for the best air purifiers for pet allergies.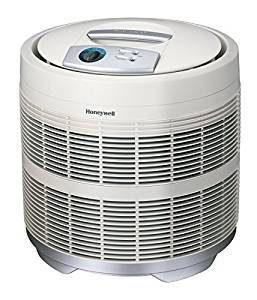 Top 5 Best Air Purifier For Pet Allergies Reviews
I know you can't do away with your pets but you don't also want your health to be tempered with having pets around the home. The good news, an air purifier is a device that can help remove all airborne allergens to have a healthy home air. By purchasing one of these machines reviews below,  symptoms of pets allergies you do experience can give way within some days of running it.
1. GermGuardian AC4825 Review
This 22-inch germ buster is both an air purifier and a deodorizer. As a True HEPA air purifier, it can trap in up to 99.97% of allergens of up to .3 micro sizes such as house dust, mold spores, pet dander, and plant pollen while eliminating unpleasant odors coming from pets, cooking, and even nasty diapers.
Ideal for small rooms, the compact Germ Guardian AC4825 packs in great power as its ultraviolet C light combines with titanium dioxide to destroy airborne viruses, bacteria, germs, and other harmful micro substances.  It has a 3-speed control which you can adjust according to your needs.
The Germ Guardian AC4825's 100+ CADR rating is a testament to how it has helped users overcome their pet allergy problems.
Buy this air purifier on Amazon
2. Honeywell 50250-S Review
The Honeywell 50250-S may seem compact enough but is actually a beast that can purify the air in a home as big as 390 square feet! Equipped with a glass fiber True HEPA filter, allergens don't stand a chance. It has a 99.97% air purifying capability and can take on particles as small as .3 microns.
One of Honeywell 50250-S' commendable features is the electronic filter indicator which lets you know when to clean or change your filter. Its filter has a longer lifespan than other air purifier machines in the market and can effectively run for 24 hours non-stop so that your family can enjoy clean air round the clock.
Buy this air purifier on Amazon
3. Honeywell 17000-S QuietCare Review
If you have pets who can freely roam your home, you need an air purifying machine that can clean the air in every nook and cranny of your house. Equipped with a True HEPA filter and pre-filter, the Honeywell 17000-S can efficiently purify the air in a 200-square foot space. It has a standard 99.97% air cleaning efficiency and filters allergens and air pollutants such as pet dander, plant pollen, cigarette smoke, and mold spores of up to .3 microns.
Honeywell 17000-S QuietCare is perfect for homes with furry babies and actual human babies who need clean air just as much as peaceful sleep.  It has three cleaning levels and electronic push button controls so that clean air is always within reach.
Buy this air purifier on Amazon
4. Winix WAC9500 Ultimate Pet True HEPA Air Cleaner Review
The Winix WAC9500 Ultimate is a strong contender for top air purifier machines for people with allergies and/or asthma. Equipped with PlasmaWave Technology, it was designed to address important filtering and purifying issues, especially targeting common and unique pet and household allergens and odors.
The True HEPA filter system captures up to 99.97% air contaminants of up to .3 microns. Its washable carbon filter eliminates common household odors such as pets, smoking, and cooking. On the other hand, its washable pre-filter prolongs the life of the main filter whilst assisting in capturing pet dander and other larger allergens. It also has a filter indicator light so there is no guessing when it needs cleaning or changing.
Buy this air purifier on Amazon
5. GermGuardian AC5350B Elite Review

The 28-inch Germ Guardian AC5350B Elite is a digital stand-alone air purifier that can be trusted to sit in a corner and do its job of imparting clean air to the family. Its UV-C light and titanium dioxide technology ensure that the family is protected from pet allergens and other household irritants such as cigarette smoke, mold spores, and plant pollen. Its charcoal filter keeps the air clean, safe, and fresh – perfect for homes with young kids and babies.
Buy this air purifier on Amazon
Final Thought
Clean air is important to a high quality of living. An air purifier allows you to breathe in clean air while enjoying other life pleasures such as keeping a furry pet close by. When purchasing an air purifying machine, it is important to understand your family's lifestyle, the size of your house, and your budget.