Humidifiers can be a great help to your home and your health, but they require ongoing maintenance to ensure they are working and operating optimally. One of the most expensive and time-consuming aspects of maintaining a humidifier is dealing with the filter. Not only do you need to clean the filters time after time, but you are also likely to invest in replacement filters every few months.
The good news is that humidifier manufacturers have recognized the expense and inconvenience brought by filters and have now developed humidifiers that do not require filters. For many people, filterless humidifiers are what made them rethink installing them in their homes. They might have avoided installing them for years, figuring it was better to have none than having to deal with an unhealthy, dirty filter, or incurring the expense of replacing it every few months.
However, now you can enjoy all the benefits of a humidifier without worrying about the filters. Keep reading for our compilation of the best filterless humidifiers and what you should be aware of when choosing between them!
6 Best Filterless Humidifier Comparison Table
Image
Description
Tank
Dimensions
Rating
Price
MistAire XL Ultrasonic Cool Mist Humidifier


** Editor's Choice - Best Filterless Humidifier **

1 gallon
9 x 7 x 12 in
9.0
Vicks Filter-free, Ultrasonic, Visible Cool Mist Humidifier


** Best Budget Filterless Humidifier **

1.2 gallon
10.9 x 9.4 x 13.5 in
8.5
Honeywell HWM705B Filter Free Warm Moisture Humidifier
1 gallon
11 x 8.5 x 13 in
7.4
Honeywell Designer Series Ultrasonic Humidifier
1 gallon
16.3 x 9.6 x 11 in
8.4
Homdox Ultrasonic Humidifier
1.6 gallon
13.6 x 12.4 x 9.7 in
7.0
Honeywell Cool Mist Filter Free Humidifier
1 gallon
13.6 x 6.5 x 13.8 in
7.0
6 Best Filterless Humidifier Reviews
1. MistAire Ultrasonic Cool Mist Humidifier 1-Gallon Water Tank
** Editor's Choice – Best Filterless Humidifier **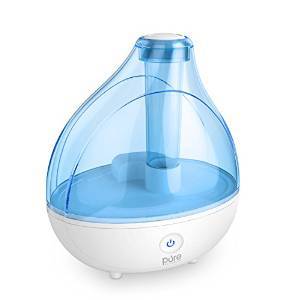 The ultrasonic cool mist humidifier XL disperses cool mist fast and efficiently. It can last for up to 10-24 hours at constant operation, depending on mist control settings, allowing you to breathe easy and get a good night's rest.
It comes with an optional night light that offers multi-colored lights to add to your room's scenic ambiance.
The one-gallon tank capacity helps provide maximum coverage for large rooms up to 500 square feet, and it also comes equipped with an automatic shut off function.
The single and dual- mist nozzles help you adjust the mist setting, and they are put in place to allow you to have extra control on over your comfort level.
2. Vicks FilterFree Humidifier
** Best Budget Filterless Humidifier **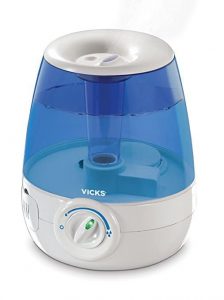 This is another warm mist unit without a filter produced by the folks at Vicks, but don't be deceived by the similar appearance, it's not the Honeywell piece we mentioned earlier.
The one-gallon system boils water into vaporous steam before releasing the warm air into your atmosphere in a safe and bacteria free manner.
It comes with a convenient handle that facilitates easy carriage, and the featured bottom tank can drain out water completely preventing standing water when the unit is not in use.
With this unit, you will enjoy warm moist air for up to 12 hours, a quiet operating mode, and an automatic system shut-off when water level becomes too low. It also comes with a medicine cup where you can put Vicks vapor steam to produce medicated mist if you so wish.
Features:
The machine provides cool mist.
Adjustable humidity control
No filter needed.
Has 1 gallon water tank.
Pros
One of the more affordable options on the market.
Good for both baby and adults.
Cons
No warning notifications about shutting down by itself when the water level is low.
As previously mentioned, the Vicks humidifier is the least expensive but equally performs up to the standards of the rest. The cool mist it provides is great for babies and the grown-ups, and it's worth the consideration to invest in the Vicks FilterFree Humidifier
3. Honeywell Filter-Free Warm Moisture Humidifier
When hunting for the best humidifier without a filter, you should consider this model from the household brand Honeywell.
With this unit, expect less cleaning and maintenance, due to the absence of a filter, and be ready to enjoy its great moisture output with virtually no disturbance.
It features a large water tank capacity which enables the filter free system to run up to 24 hours, and also a large tank opening which offers easy cleaning of the unit. This unit comes with two moisture settings to be adjusted to your preference. The Honeywell filter-less humidifier is ideal for a medium room size.
Other unique features include automatic shut-off, medicine port, and a refill indicator light, all with a great 3-year warranty!
4. Honeywell Designer Series Filter Free Cool Mist Humidifier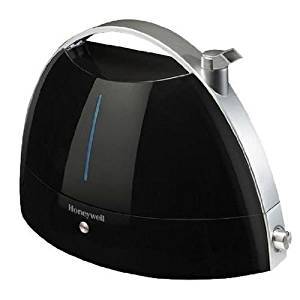 The Honeywell designer series has a plethora of positive benefits as a cool mist humidifier, and because of this lands itself among the best. For starters, it doesn't rely on filters to operate which saves you a considerable amount of money that would go towards filter replacement and maintenance.
The Honeywell is ideal for medium and large rooms, and thanks to its adjustable moisture settings it's easy to set your preferred output release.
This humidifier runs great in silent mode without disrupting your sleep, and the rotating mist outlet lets you direct the moisture where you want it.
Features:
Cool mist.
No filter to replace or wash.
Variable mist control.
You can direct the mist anywhere you want it.
Pros:
Low maintenance compared to humidifiers that uses filters.
Display blue light that lets you view the water level.
Cons:
It's a bit on the expensive side.
Does not feature automatic shut-off.
The Honeywell is suitable for either medium or large bedroom. Use the directional mist position to face wherever you want. It can run for up to 30 hours and operate with mild sound.
5. Homdox 1.6 Gallon Ultrasonic Warm and Cool Mist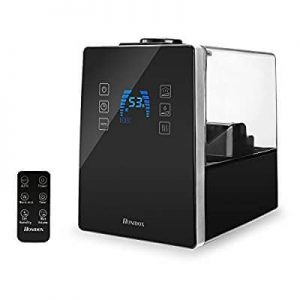 The Homodox humidifier comes with a series of robust features you won't find in most filterless humidifiers. This unit delivers both cool and warm mist which is optimal for adjusting your preferences based on the time of year.
With a remote control, operating this unit becomes less toilsome and more convenient as you can operate it from six meters away. The dual mist system comes with a 1.6-gallon capacity that will last you through the night, and the shut-off function to protect the unit whenever the tank becomes empty. This filter-free unit also features a built-in water purifier to destroy any unwanted water organisms that may make their way into the reservoir.
You will also love the silent working mechanism of the Homodox Ultrasonic humidifier as it's hardly audible above a whisper, allowing you to sleep soundly. For more features and customer reviews about the Homodox, check out the Amazon link below!
6. Honeywell Easy to Care Cool Mist Filter Free Humidifier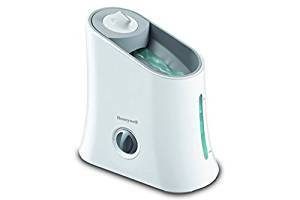 Here is another top-rated filter-less humidifier to consider: the Honeywell HUT-220W, a great quality humidifier for small rooms and bedrooms.
This is another cool mist filter free humidifier designed with a circulating mist outlet. The HUT-220W works much the same way as watering the plants does as it evenly distributes and circulates moisture around the room.
With up to 46 hours working time, you won't have to refill the humidifier very often, and it also comes with variable moisture settings just like the Honeywell Designer series above. And when its time for cleanup, the water bin is dishwasher safe making it all the more convenient.
Features
Designed for small rooms like your bedroom.
Has a 1.0 gallon water tank.
Dishwasher safe
Has a variety of moisture settings.
46 hours run time.
Automatic shut-off
Pros:
Not pricey.
Worry free when a water tank is empty because the cool mist will turn off by itself.
Cons
It may not work efficiently in a larger room.
As a matter of comparison, the easy care cool mist has similar features as that of the designer series, but the auto-shutdown function adds a perk in its favor. This unit is not suitable for bigger room sizes, and its use of evaporating mist means it does not produce white dust.
Why Do You Need A Filterless Humidifier?
Using a humidifier with an air filter often carries the risk of releasing minerals deposits, air pollutants, and white dust into your home. Thanks to technological advancements, we now have filterless options that reduce these risks.
Benefits of a Filter-Less Humidifier?
A filter-less humidifier offers many benefits, most of which are similar to traditional humidifiers, but there are several benefits provided by filter-less devices that are not found in the traditional filtered devices. Some of these benefits include;
Quiet operation- which enables them to work even at night
Saves you the cost of buying replacement filters
Antibacterial protections that prevent mildew and mold growth
Variable mist settings allowing adjustment for individual preferences
A boost to the immune system and improved health of skin
Filter-free humidifiers can keep the air clean and moist simultaneously by putting moisture back into the air. The air stays clean despite being no removable filters in this device. In place of filters, these machines use electrostatic charge technology to push air into the cleaning chamber and pushing it out to the room in the form of a mist.
Signs Your Home Needs a Filter-Free Humidifier
One of the most obvious and easiest ways to tell if your home needs a humidifier is your comfort. If your skin feels dry, tight, and itchy, or you experience nosebleeds frequently, it is likely you need moisturized air which can only be provided by a humidifier.
If you experience the following symptoms, then you need a humidifier;
Dry, nagging cough
Chest and nasal congestion
Waking up with scratchy, dry throat
Dry, brittle nails and hair
Chapped lips
How to Choose the Best Filter-Less Humidifier
Shopping for a filter-free humidifier can be a bit overwhelming, due to the many models on the market today. It is, therefore, a good idea to carry out a bit of research before buying one, to have a clear understanding of what you want.
Types of Filter-Less Humidifiers
There are several options available for people who would want to invest in a filter-free humidifier. Your choice depends on the size of the area you intend to use the humidifier, your budget, and your personal preferences. Here are the different types that are available;
Steam vaporizers- they moisturize air without needing huge financial investment
Impeller filter-less humidifiers- these are the most child-friendly humidifiers as they blow cool mist thereby helping young children who are experiencing nasal or chest congestion
Ultrasonic filter-less humidifiers- these work much like impeller filter-free humidifiers but produce cool mist by use of ultrasonic vibration
Central filter-less humidifier- they are placed in a heating unit or air conditioning unit and blow moisture via the vent system
Whole house humidifiers are often the best choices, but they can be quite expensive. Conversely, if a whole house humidifier exceeds your set budget to a greater extent, there are quality humidifiers that will solve your dry air problems in the living room and bedrooms for a reasonable cost.
It is also good to familiarize yourself with the pros and cons of filter-free humidifiers before buying one to whether they are worth it or not. Here are a few pros and cons of filter-less humidifiers:
Pros
They are easy to use
They are noiseless
No need to replace filters regularly
They are relatively inexpensive
Cons
They need to be cleaned regularly, if possible on a daily basis.
Cheap ones are sometimes considered unhygienic
Wrap Up
A filter-less humidifier is one of those devices you need to have installed in your home if you want to enjoy quality air and prevent cold, nasal congestion and flu. Keeping the air in your house moist is also good for your skin.
If you decide to buy filter-less humidifiers, it is important to make sure you get the best one.
Conclusion
We have successfully looked at 6 different filterless humidifiers along with each of their features, pros, and cons. You can now decide which filterless humidifier on this list meets your needs best and identify the one that falls within your budget.