Living happy and comfortable with your family is possible even when the humidity level is low during winter.
When the humidity level is not controlled it can expose you and your family to various skin conditions, respiratory issues, and uncomfortable moments.
One of the best ways to control humidity level is by using a good humidifier. Here are our top picks and reviews of the best whole house humidifier below:
Types of House Humidifier
Knowing the various types of whole house humidifiers will save you the stress and time involved when shopping for humidifiers. As there are plenty of manufacturer and brands of humidifiers so there are different types of humidifiers.
Though whole house humidifiers are designed to humidify an entire house, still they exist in different models and functionality. Here are the types of whole house humidifier to know:
1. Bypass humidifiers: These types are seen as one of the best for a furnace system as they use less water and also require less maintenance compared to competitive units. If you want to minimize humidifiers running cost, bypass humidifiers are ideal choice to consider.
2. Steam humidifiers: If you want to create comfortable humidity level within a short time, steam humidifiers are one of the best types for a whole house as rated by consumer reports.
How is this possible? Because they heat up the water, converting it into steam and since steam travels faster compare to mist in the air, your space will be humidified within few minutes of running a steam humidifier. And that's why these types are more common among users.
3. Fan enabled humidifiers: These works similar to the bypass models but they are more useful as the fan installed in them blows the air through the water panel and thus leads to high humidity evaporation.
Many users claim fan-powered humidifiers are also a good option when it comes to shopping for a whole house humidifier system.
Benefits  Of A Whole House Humidifier
There are lots of health benefits from the moisture provided by a whole house humidifier such as soothing of dry skin, sinus congestion, and more caused by dry air in the home where there is low humidity.
When you maintain the humidity level within a recommended range of 35 to 45%, it will reduce the chances of you catching flu or cold symptoms. Optimal humidity level also helps to promote the integrity of your home belonging by protecting them in good condition.
Things you need to know before Purchasing Your Humidifier
Be sure to know your home coverage area in square feet (sq. ft) in order to choose the right unit.
Decide which of the types of whole house humidifier is best for you.
Check various features such as digital or manual humidity control, auto-shut off, filter replacement or empty tank indicator option and others. If you need a filterless humidifier, you should read this post.
Consider mode of installation if you can do it yourself or require a professional.
Also consider maintenance cost, although most humidifiers are easy to maintain.
Finally, check if the humidifier has a warranty. Be informed that some manufacturers withdraw their warranty if the unit is not installed by an expert.
Best Whole House Humidifier Comparison & Buying Guide
5 Best Whole House Humidifier Reviews
1. Essick Air AIRCARE MA1201
Base on consumers review and rating, the MA1201 is one of the best whole house console humidifiers you will likely to find in most retail stores. It's space-saving, making it an ideal unit for those having space issues. This unit can power home of about 3,600 square feet while using just 6 gallons of water in 24 hours.
It is equipped with water refilling and filter check indicator that alert you on when to refill or change the filter respectively.
Since it's a console unit, it can serve as a whole house humidifier and also as a single room unit which is movable from one room to another. This reduces the cost of purchasing more humidifiers as this unit meets this requirement.
It also features a 4-speed fan and humidity customization settings that allow you to set your desired humidity level. An auto-shutoff function is also available on this Essick air model, this turns off the unit when there is a shortage of water.
2. AIRCARE EP9 500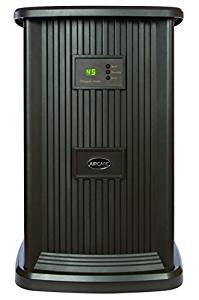 The EP9 500 is another great humidity device from the Essick air brand which is common among users. As a standalone unit, it allows you move around your house. It is designed to humidify any home measuring up to 2,800 sq. ft while consuming up to 9 gallons of water per day.
The evaporative unit features 9 fan speed option just to meet your desired humidity level by choosing your preferred speed level. It is also equipped with automatic shut off, water refill and check filter indicator that helps monitor the unit accordingly for peace mind.
It comes in an easy to refill front pour design that makes refilling easier. Also, enjoy customizable humidity control and digital display with 60 hours of runtime.
3. Bionaire Ultrasonic Humidifier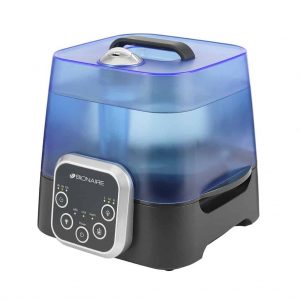 Humidifiers are built to add humidity in homes where the humidity level is low. However, this Bionaire humidifier won't disappoint you when you need it most. The ultrasonic unit is space saving, it uses no filter and the beautiful design will equally add décor to your home.
It features an empty tank indicator which will alert you when the tank is empty and for health safety, the Bionaire is equipped with an antimicrobial protection which is infused into the plastics that prevent bacteria growth, odors, stains that can adversely affect its performance.
It comes with a digital humidistat, LCD screen display, where you can view the current humidity level of your home. And from the display panel, you can keep an eye on the water level, timer, and other amazing features.
4. Honeywell Cool Moisture Console Humidifier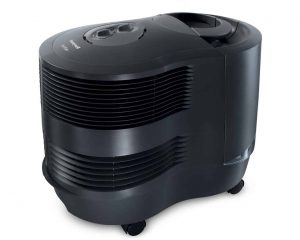 The Honeywell cool mist humidifier is a reliable unit that can also serve you even in a whole house, it can be used in multiple rooms. It is engineered to be light-weight and has caster wheels to enable you to transport it from one room to another. With multiple output settings, you can adjust humidity level to soothe your needs.
It features QuietCare technology that runs silently and comes with a dual tank. The tank opening is located at the top of the unit making it easy to refill and clean.
The Honeywell Console unit consumes less energy than the normal 80-watt bulb and its automatic shut off feature turns it off when there is no water to disperse. When the tank is filled up, this machine can run for up to 24 hours providing you the humidity needed at home.
5. Essick Air 3-Speed Console Humidifier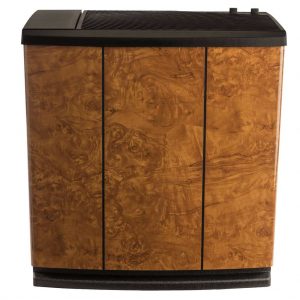 The unit features a humidity sensor. With its digital display, you can view all settings to see if the device is complying with them.
Even as a console unit, it features three fan speeds (low, medium and high), so you can choose the speed that is suitable at a time to meet your home condition at a particular time.
With the 12 gallons of water consumption rate, this humidity machine will humidify a space of 2,500 square feet with moisture while lasting up to 24 hours.
It also features a superb wick technology that helps prevent harmful dust and particulates to provide you bacteria and contaminate free air.
6. AprilAire 700 Power Humidifier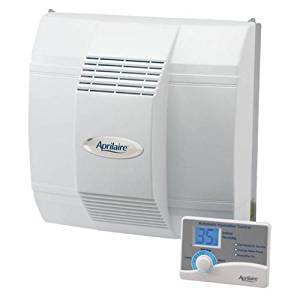 This is a furnace type of humidifier that can be mounted on a HAVC or on a cooling system for it to work. This duct system can humidify living space that is up to 4,500 square feet while using up to 16 gallons of water in 24 hours.
With this unit, there is no need to refill your humidifier just like you will do with console types as this unit is directly connected to a water source.
One unique feature to enjoy from the AprilAire 700 is the digital moisture sensor that helps to measure the current indoor humidity level and automatically regulates it for comfort needs. It offers less maintenance and running cost.
The bottom line, as an induct system it requires installation and if you are a DIY kind of person you can take the advantage else it will require an expert to install this unit.
7. Aprilaire 400 Humidifier Bypass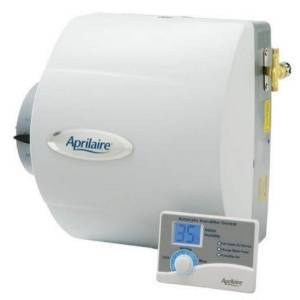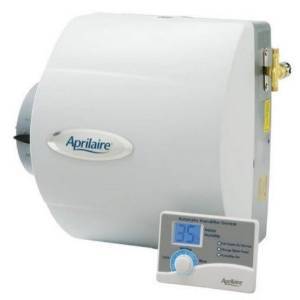 The Aprilaire 400 is a great furnace humidifier as well. It is designed for a home of up to 4,000 square feet which is great for larger spaces.
The Aprilaire 400 is equipped with a built-in humidistat that helps measure the level of humidity in your room. If the result is too low, it will raise it to a desired level and equally regulates itself when humidity is high to prevent too humid dwelling space.
The humidifier is cost effective when it comes to maintenance and running expenses. All you need do, installed it, set your set prefer humidity level then leave it to run and keep checking on schedule basis to see if there are any parts to replace. Remember, this unit requires installation for it to start functioning.
How Humidifier Benefits Dry Skin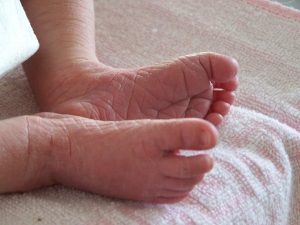 To add to the list above, your wooden floor, furniture and electronics are at risk in homes where the humidity is low as these items might crack and may finally split.
Even Wikipedia concludes that raising the indoor humidity to a certain level through the use of a humidifier or other means is beneficial to humans and properties.
However, it is important you know how humidifier works as it will help save you from making mistakes.
Best Humidifier Buying Guide
Coverage area: This is one of the most important aspects of a whole house humidifier. The coverage area of your home determines the product that will power it optimally.
The coverage area is measured in square feet. Some product covers up to 4,000 sq. ft, 2,500 sq. ft 3,600 sq. ft, etc. Consider checking the actual coverage of the unit you intend buying to meet your home specification before purchasing it.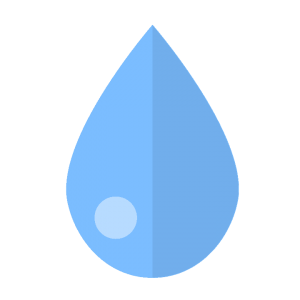 Evaporation rate: The evaporation rate determines the rate of the moisture being released by humidifier will saturate your home space.
In order words, the higher the number the faster it will take for your space to be humidified and vice versa. However, aiming a unit with high output evaporation rate is a wise decision.
Humidity regulation: Units that feature automatic humidistat will automatically adjust the level of humidity present in your home thereby creating a comfortable dwelling place while those with manual operation requires you doing it by yourself with the help of a hygrometer.
Ease of use: Features such as automatic shut off function, empty tank alert, and filter replacement reminders are some of the features that make running a humidifier an ease of use.
The level of maintenance required in terms how long it takes to replace the filters, cleaning the unit should be put into consideration as these can increase the cost of running your humidifier.
Installation: Here you can determine what type of whole house you want to purchase as there are two types available. The induct type requires installation which can be done either by you or by a professional.
And if done by experts, you may incur some cost in installing it but the console types do not need installation.
Why Should You Purchase a Whole House Humidifier
1. It offers convenience: A whole-house humidifier provides convenience. In the sense that, after installing a whole house humidifier, you can simply set your desired humidity level and just leave it to run.
The only thing left is to keep checking it from time to time to see if there is need to replace any broken parts. That's just a little care compare to the portable humidifiers.  In addition, a whole house humidifier comes with bigger tank, this eliminates the needs of refilling the tank more often compare to single rooms units.
2. Little Maintenance: While the portable humidifiers require cleaning chemicals that are sometimes harmful to prevent mold and bacteria growth, the whole house type is free from this development.
This is essentially true because whole house units use freshwater from your home water system. This water doesn't stand in one place for bacteria and viruses to breed in.
3. Energy Efficient: Furthermore, most whole house humidifiers are energy certified which consumes less electricity, this is not so with the portable humidifiers types.
However, the review of our whole house humidifier here will give you enough reasons to purchase a whole house humidifier instead of the single room humidifiers.
4. It is space saving: Even though the portable humidifiers come in tower design, they are usually bulky in size. And the larger your room size, the bigger tank you will need to be in the portable system.
And most times, one portable unit may not be enough to add the required moisture for a whole house. But the case is different with whole house humidifiers. Only one unit is powerful to humidify the entire space and may not be noticed by visitors as it will be installed in a strategic location.
10 Reasons To Get a Humidifier

Conclusion
We conclude based on features, ratings, and consumers reports that the AIRCARE MA1201 is the best whole house humidifier for most. Pay close to the features important to you if you feel your needs are a bit unique.